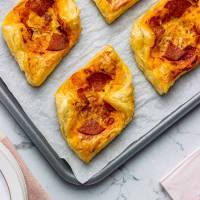 Pepperoni and Cheese Puffs
8

servings

25 mins
206 kcal

NF
Over lockdown we got bored of the same old breakfasts. Since I no longer had to make food to such strict time deadlines, with school now taking place in our own home, I took to experimenting with new recipes and flavours to up the ante on the first meal of the day.
These pepperoni and cheese puffs are the result of that experimentation! We really enjoy savoury things for breakfast in our house, and eggs are always a go-to, but the slightly spicy, rich pepperoni alongside flavoursome cheese and buttery, flaky pastry have made this a new hit! This recipe could easily work for a lunchtime or afternoon snack, too - or even as finger food for a buffet or party.
Tips
For a vegetarian version of this, keep the tomato sauce at the base, add feta cheese, peppers, kalamata olives and top it off with oregano.