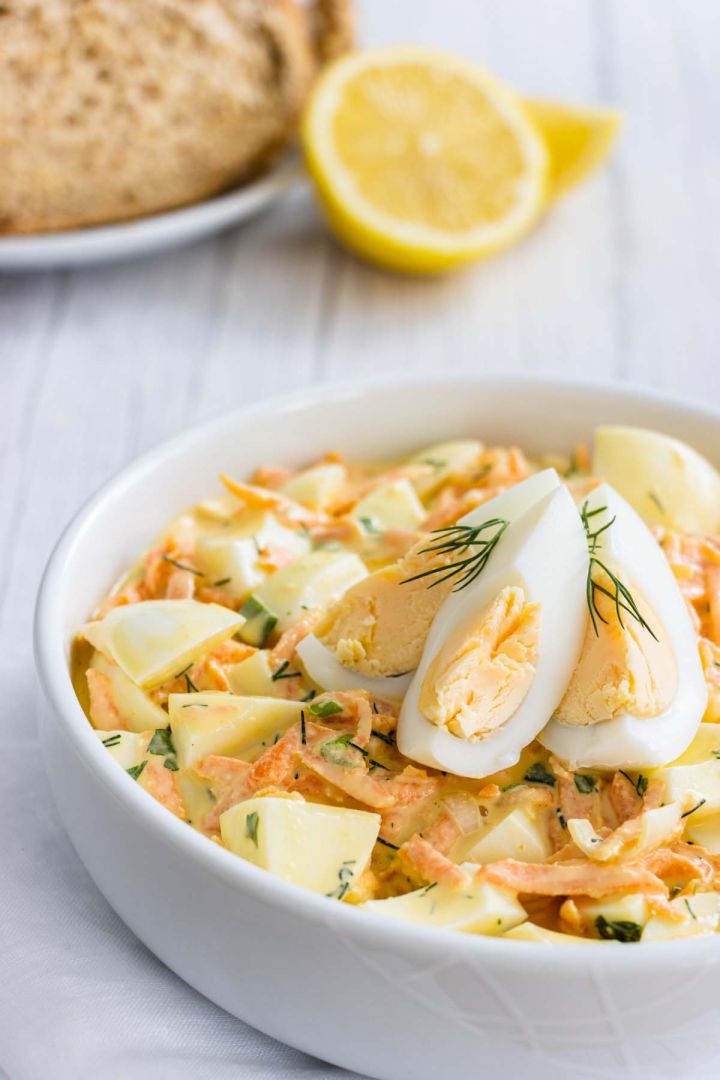 As the only vegetarian in the family (and I don't just mean out of my husband and daughters - I mean every family member on both sides!) it sometimes seems like I can be an extra burden when it comes to catering. But I always tell everybody, I love mezedes! Those Greek side dishes you might order in a taverna are usually precisely what I want - this way I get many tastes of many delicious dishes. Forget the 'mains'!
This egg salad with shredded carrots was made by my sister for me at one of these family gatherings. Now, 'egg salad recipe' might not be your first Google search - but you have to give this a go! It's a fresh, hearty, and super-tasty side salad that can easily function as a full meal when you want something lighter.
Tips
This is the perfect side dish to prepare in advance when you have guests, but you can also store it in the fridge, in a sealed container for up to 3 days.
Directions
You will need about 15 minutes to make 6 servings of this recipe, which has approximately 235 calories each. Make sure you have all the ingredients and follow these 5 simple steps. If you have any questions, send me an email and I'd be more than happy to help!
Watch it step-by-step!
Egg salad with carrots...hearty side dish or light main meal? My husband argues the former, whilst I'm happy to make it the main event! I enjoy this as a stand-alone dish for a light meal, but it's always great to have these sorts of salads, isn't it - the ones you can use in so many different ways.