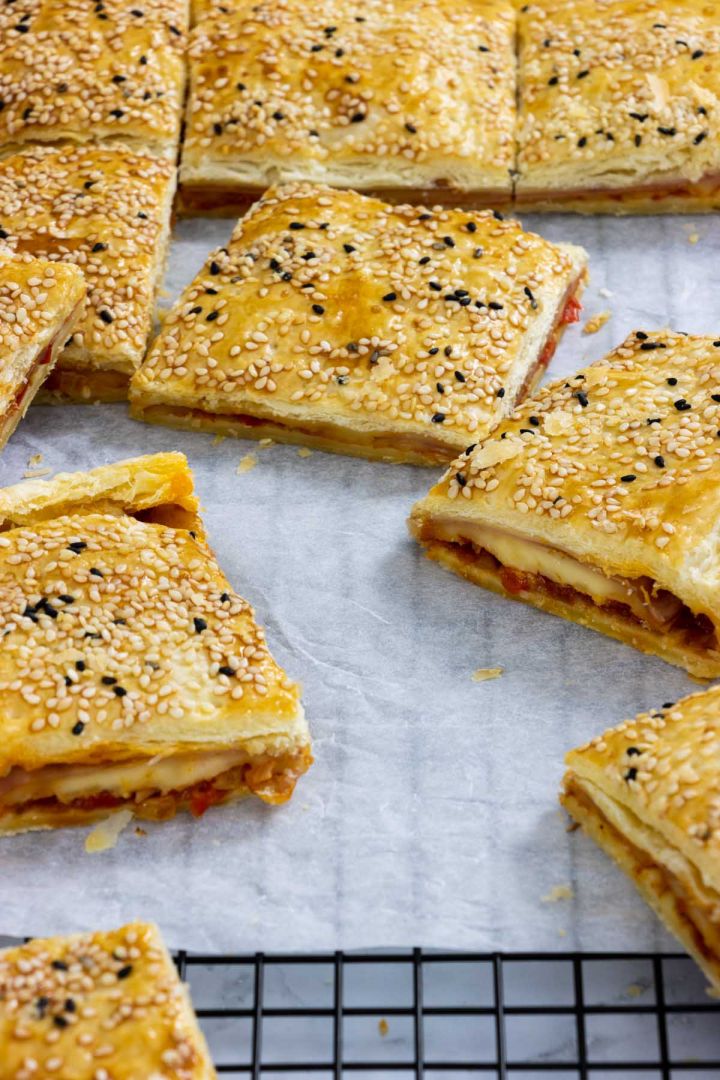 This ham and cheese pie is a homemade version of something you often find in Greek bakeries and pastry shops. It's a great snack that I include in the kids' lunch boxes to mix things up, but it's also a yummy afternoon snack for me and perfect finger food for a birthday party, or picnic.
The ham and cheese pie crust of flaky, buttery puff pastry adds a little crunch on top, whilst the mouthwatering filling of slightly herby tomato, ham and cheese ticks all the boxes for kids and adults alike! You can enjoy this hot or cold, but make sure to indulge in good quality ham - this is a simple recipe, so the flavour of the ingredients makes all the difference. 😊
Tips
Ham and cheese are the most popular choices, but often I use what ever I have available. Same quantities of any kind of cheese and cold cuts of your choice.
I prefer to have the onion and the bell pepper chopped because I like their texture in every bite. However you can blend them completely if you prefer to keep only their taste and not their texture.
The sauce is perfect for pizza too! When ever I make this recipe, I do a little extra and store it in the fridge for an upcoming pizza night.
Directions
You will need about 50 minutes to make 15 servings of this recipe, which has approximately 228 calories each. Make sure you have all the ingredients and follow these 11 simple steps. If you have any questions, send me an email and I'd be more than happy to help!
Watch it step-by-step!
This recipe for ham and cheese pie is just one of those bakes that's so adaptable - there's almost no occasion it doesn't work for! This is a homemade version of a Greek bakery classic.