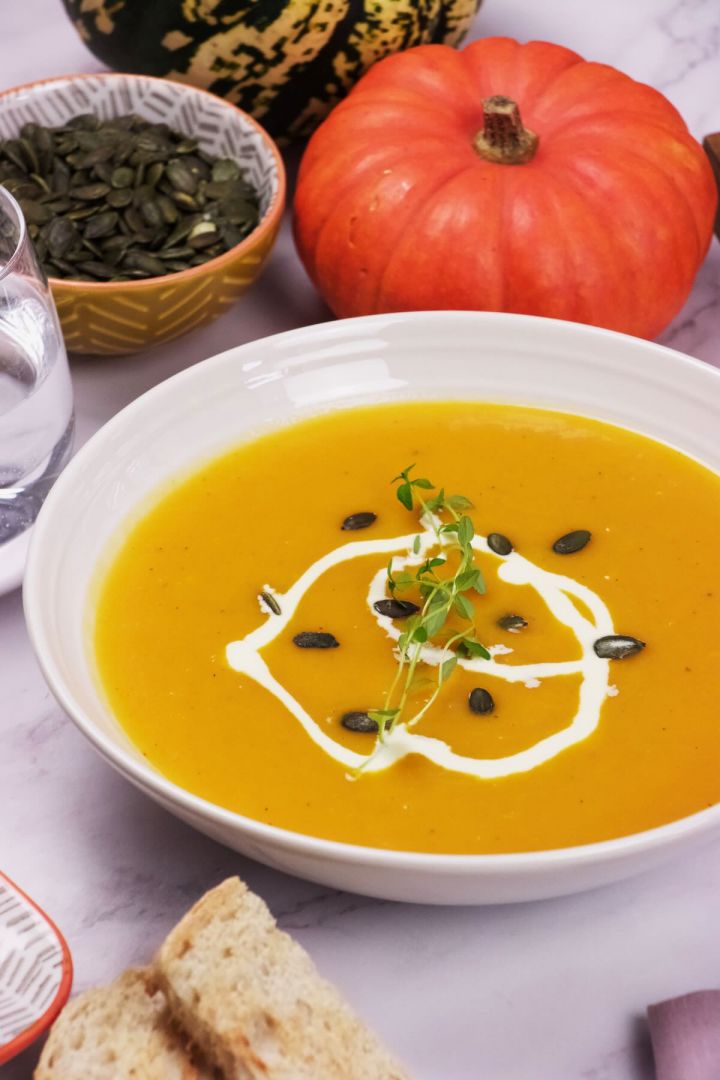 Fall is finally here, which means pumpkin everything. From scented candles to lattes, pumpkins are taking over. While some people may be sick of this gourd, I personally can't get enough. One of my favorite ways to enjoy pumpkin is in soup form, and I want to share my go-to recipe with you all!
The soup recipes I have often give my non-vegetarian family members the wrong idea. They see soup and instantly think we're, somehow, dieting or that it won't be enough to fill them up. Neither of those things is true! When they take that first dip of bread into this velvety pumpkin soup paired with sweet potato, you can see the change in their eyes. This soup is delicious on its own, but you could also dip some thick toasted slices of sourdough or Foccacia. I personally like to top it with a few croutons or roasted chickpeas, but that's optional. My husband loves bacon, so he usually tops his with a generous amount of thinly sliced bacon.
This pumpkin soup with sweet potato is a healthy and delicious recipe that everyone will love. The sweet potato and pumpkin work in tandem to create a delicious dish, while the ginger adds a pleasing touch of spice. Finally, add milk to the mixture prior to blending for a smooth and luscious pumpkin soup that will tantalize everyone's taste buds.
This five-star soup is simple to prepare, under 50 minutes from start to finish, and packed with good-for-you ingredients. Whether you're aiming to ward off a cold or just relax on a cool autumn evening, this recipe will undoubtedly become one of your new favorites! If you're still craving pumpkin and want a dessert to accompany your coffee, these cupcakes are an excellent choice.
Tips
You can make this soup using any type of pumpkin.
If your soup is too thick after blending, add some vegetable broth. The soup will also thicken as it cools down.
The pumpkin soup can last in the fridge for 4 days, but only if it's cooled before being placed in an airtight container.
Make this recipe vegan-friendly by swapping out the milk for coconut or any other plant-based milk.
Directions
You will need about 40 minutes to make 5 servings of this recipe, which has approximately 208 calories each. Make sure you have all the ingredients and follow these 4 simple steps. If you have any questions, send me an email and I'd be more than happy to help!
Watch it step-by-step!
Fall is my favorite season, and pumpkins just add to the amazing seasonal vibes. Pumpkin spice lattes may be a polarizing topic, but pumpkin soups are always a hit in my house. My go-to pumpkin soup recipe includes both pumpkin and sweet potato for some added sweetness and thickness.