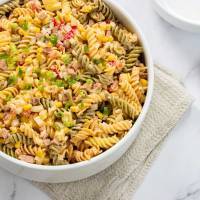 Pasta Salad without Mayo
8

servings

25 mins
304 kcal

NF
This pasta salad is such a simple dish that it barely needs a recipe; that's part of the reason I love to make it! The second reason is that it gets some nice veggies into the kids' diet without any fuss - they love pasta in every form.
This is a great, easy supper dish. I often serve it with my wine-infused burger patties, for a hearty lunch or evening option. It's also the perfect dish to feed to those guests who came round for coffee - and are still here hours later, when dinner is due! Cooking pasta is the easiest, quickest thing, and there is always enough in the fridge to help me rustle up this recipe.
You might've noticed I use Greek yoghurt here, instead of mayonnaise. This really brings the calorie count back under control; it's still an indulgent pasta, but the added protein from the Greek yoghurt and the decrease in calories make it easier to warrant cooking regularly. I tend to make a big batch of it, hoping to have it in the fridge to use as a side dish over the next two to three days - but my family often thwart this plan, demolishing it in one sitting!
Tips
Prepare this salad in advance as the perfect side and store it in the fridge for up to 3 days.
Try different vegetable combinations with this salad based on your taste. My most popular alternatives are cherry tomatoes, green onions and peas.
Most types of pasta would be fine, however I find the tricolore fusilli more fitting for this recipe, easier to serve and because of their shape, the dressing is spread a lot nicer.