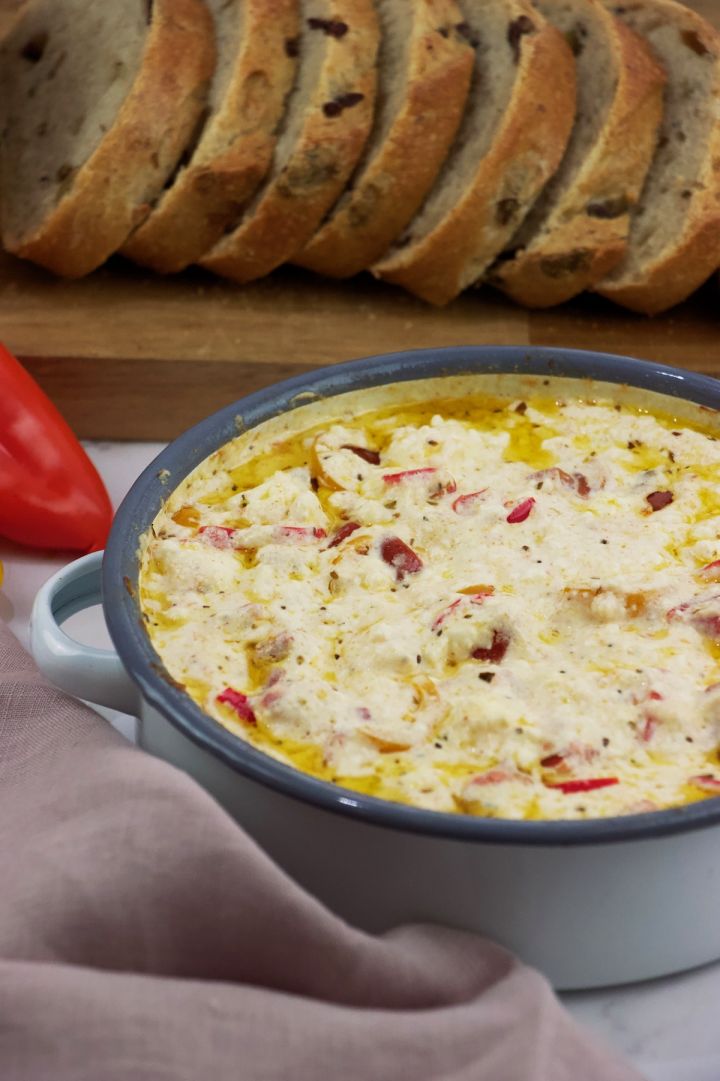 Feta cheese is truly a Greek treasure and a staple ingredient in our traditional cuisine. It's hard to come across a Greek dish that doesn't have feta as one of the key players. And why not? Feta's salty, tangy, and crumbly texture make it a versatile and delicious ingredient that can be used in various dishes. But this particular recipe is a game-changer! It is called Bougiourdi and it's not just about adding some feta in the mix; it's the star of the show! With a few simple ingredients and some spices, this recipe creates a meze experience that will transport your taste buds straight to Greece.
In a Greek taverna, when it comes to ordering meze, we usually choose between Baked Feta in Filo with Honey and Sesame or Bougiourdi. However, if everyone is comfortable with a little spicy dish, we go for Bougiourdi. If you're not familiar with it, it's basically a cheesy masterpiece consisting of a hunk of Feta cheese surrounded by chopped tomatoes and peppers, all baked together in a small dish. Some folks like to toss in some Kaseri cheese to give it an extra gooey texture, but I'll take mine crumbly, thank you very much.
If you want to make delicious Greek dishes, it's essential to use high-quality ingredients. But let me tell you about a dish where you can throw caution to the wind and still come out with something delicious. Freshly chopped tomatoes and peppers, a few spices, and the oven are all you need to work some magic in the kitchen. The end result is a mouth-watering, crumbly meze that's just begging for a good fork mix right out of the oven.
Let's be real, a dish that involves bread as a vehicle for deliciousness is always a winner in our book. And Bougiourdi is no exception. But let's take a moment to appreciate the unsung hero of this dish: the toasted sourdough slices. The perfect canvas for the hearty chunks of tomato, feta, and peppers. And let's not forget the ooey-gooey goodness of that melted cheese on top. Whether you're a dipper or a bread-bite-bite-with-a-little-Bougiourdi-on-top-er, one thing's for sure: you're going to need to lick your fingers clean after this one. It's that good.
Tips
If you don't have regular tomatoes, cherry tomatoes can be a great replacement. Just cut them in half and use them instead.
For a chewier texture and added flavor, sprinkle 50g of parmesan or cheddar cheese on top of the feta before cooking.
If you don't have a dish that is safe to use in the oven, you can use parchment paper and aluminum foil to create a parcel for your food. Simply wrap everything in parchment paper and then wrap it again with aluminum foil. Then, bake the parcel as you normally would and enjoy.
If you have Bougiourdi left over, you can refrigerate it for up to 2 days. When you are ready to eat it again, you can reheat it in the oven or microwave. This only applies if you have leftovers, as Bougiourdi is best enjoyed fresh.
To adjust the spice level, you can either increase or decrease the amount of chili powder used based on your tolerance. Alternatively, for a very spicy result, you can substitute with chili peppers.
Directions
You will need about 35 minutes to make 4 servings of this recipe, which has approximately 200 calories each. Make sure you have all the ingredients and follow these 9 simple steps. If you have any questions, send me an email and I'd be more than happy to help!
Watch it step-by-step!
Looking for a flavorful appetizer that's easy to make but will impress your guests? Look no further than Bougiourdi, the cheesy Greek delight that puts feta cheese front and center.