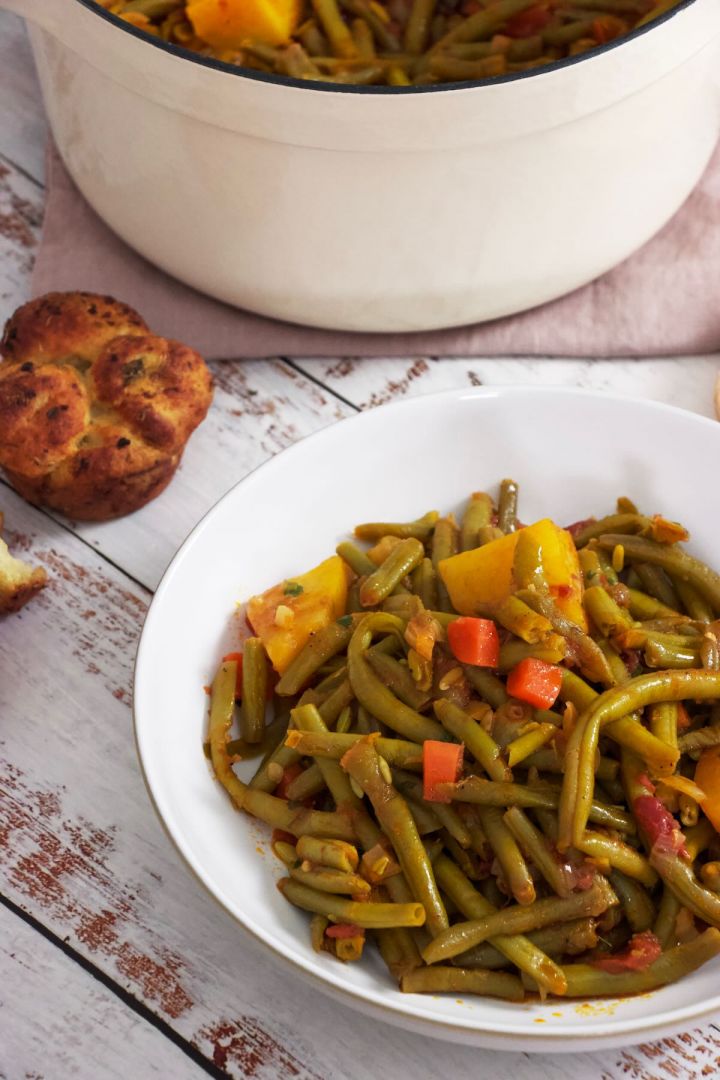 I remember enjoying this at home in Rhodes through the summer as a child - with freshly-picked green beans from the garden, and even freshly picked tomatoes too! This stewed green beans dish (or Fasolakia Giaxni in Greek) is more than the sum of its parts, and is well worth incorporating into your recipe repertoire.
The great news is that beans are now available all year round, frozen! And because tinned tomatoes are a perfect substitute for fresh ones here, this has really turned into almost a store cupboard dish, which I can conjure up whatever the season, whatever the weather. It can be grat to know you've got a veggie 'store cupboard' side, for when I'm due to go shopping and we're almost out of fresh veggies. Fasolakia Ladera, or Green beans with oil, and the addition of tomatoes and herbs, makes simple freezer ingredients shine.
This is one of those great vegetarian sides; it's so complex in flavour despite the simplicity of making it. Green beans in tomato sauce is one to cook up as a side to accompany a special evening meal (or indeed, lunch in the sun, should you be so lucky!). Some pair the dish with beef, which is good for meat eaters, but I really don't think it misses much through the absence of the meat here. Good quality olive oil is important too, as is the finely chopped sprinkle of herbs at the end - this really elevates all the flavours and melds them together perfectly.
Directions
You will need about 1 hour to make 6 servings of this recipe, which has approximately 140 calories each. Make sure you have all the ingredients and follow these 5 simple steps. If you have any questions, send me an email and I'd be more than happy to help!
Watch it step-by-step!
Green beans with tomato sauce - the ultimate veggie dish! I love cooking this up as a veggie main for everybody to enjoy when I have friends and family around, and this is one that everybody consistently reaches for, veggie or not.