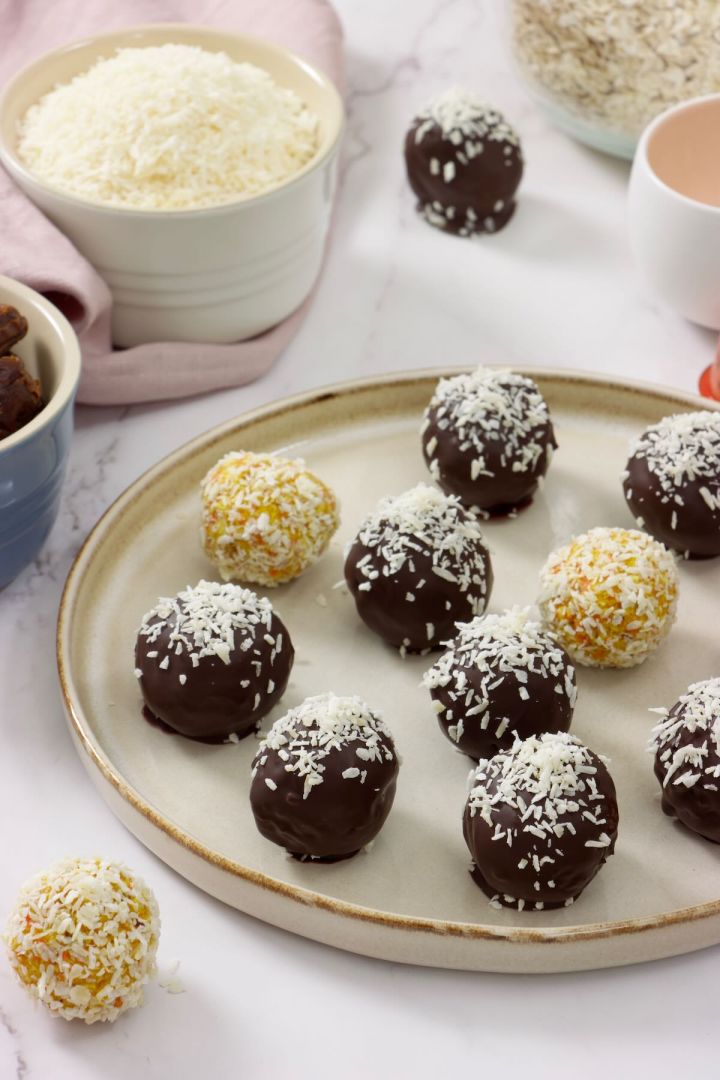 If you're looking for a sweet treat without guilt, these carrot coconut truffles are the perfect solution. Made with grated carrot and shredded coconut, they provide a burst of natural sweetness without using any refined sugars. Not only are they delicious, but carrots are also rich in essential nutrients like Vitamin A and biotin. The addition of coconut adds a hint of tropical flavor while providing healthy fats and fiber. And because they can be stored in the fridge, these truffles make for a convenient snack on the go.
This recipe has been a staple in my mother's cookbook for years. However, owing to the extra pounds we acquired throughout the summer vacations, I modified it slightly to cut down on calories and make it even more of a guilt-free snack. I also changed the technique. Although my mother used to sauté the shredded carrots, making the mixture softer, I prefer raw carrots because they have more flavor and add extra texture to the truffles.
These truffles are a great way to satisfy your sweet tooth without sacrificing any other part of the meal. They also freeze well, so you'll have them on hand for those particularly intense cravings that strike at unexpected times! These carrot coconut treats really do taste delicious - my family can't get enough of them themselves. Give this recipe a try if you want something healthy but still very satisfying… you won't be disappointed
By the way, if you're not a fan of carrots or coconut, my Energy Bites with Dates recipe is an excellent alternative with half the calories! Not to mention, they are just as easy to make, and they pack an extra protein punch perfect for a morning boost!
Tips
Store the truffles in an airtight container to prevent the desiccated coconut from drying out.
You can store these truffles in the fridge for a week, and they are best served cold.
If you don't have agave syrup, substitutions such as honey or maple syrup will work just as well.
Directions
You will need about 30 minutes to make 28 pieces of this recipe, which has approximately 105 calories each. Make sure you have all the ingredients and follow these 10 simple steps. If you have any questions, send me an email and I'd be more than happy to help!
Watch it step-by-step!
Are you in the mood for a sweet treat but don't want to deal with the guilt afterward? Look no further, because these carrot coconut truffles are just what you need!