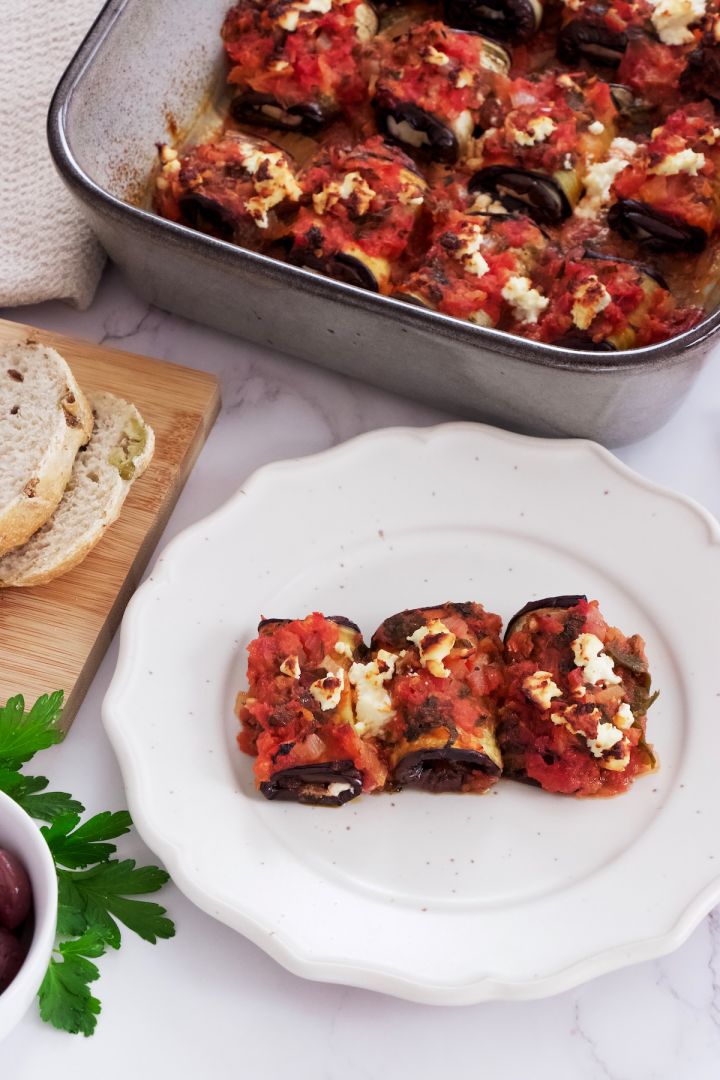 These feta eggplant roll-ups are a Greek version of the classic Italian dish aubergine parmigiana - but using feta instead of parmesan and mozzarella! It's one of those Greek meze dishes we almost always order in tavernas to make sure there are a few vegetarian options for me (yes, I'm the only vegetarian in the family!). The eggplant is first roasted until soft, then rolled around a filling of feta, tomatoes and herbs. These little rolls are baked until the feta is melted and bubbly, and they make the perfect appetiser or light main course.
This is a brilliant vegetarian dish with which to celebrate the simple pleasures of Mediterranean produce in the summer. Those fresh, ripe tomatoes and glossy, curvy aubergines, almost bursting from their skins. The slow-cooked pleasure of tomatoes with olive oil, onions and garlic. This is the best of Mediterranean simplicity. There are only a handful of ingredients, but this truly is such a satisfying, hearty, smile-inducing dish.
I'm always on the lookout for new recipes to try out, and when I came across this one for eggplant roll-ups, I knew I had to give it a go. This side dish quickly became one of the standard things we order when visiting a greek taverna. The fact that it's so easy to make at home, gives it a few extra points and also added eggplant to my weekly supermarket list. I hope you enjoy it as much as we do!
Tips
If you don't have fresh tomatoes, use canned crushed tomatoes. Just blend them in a food processor until smooth.
These eggplant roll-ups will last in the fridge, stored properly in an airtight container, for up to 3 days.
To avoid bitter eggplants, slice them and place them in a large bowl of water with salt or lemon. Let them soak for about 20 minutes, then drain well.
Directions
You will need about 1 hour to make 16 pieces of this recipe, which has approximately 75 calories each. Make sure you have all the ingredients and follow these 8 simple steps. If you have any questions, send me an email and I'd be more than happy to help!
Watch it step-by-step!
This feta eggplant roll-up recipe is Mediterranean simplicity embodied. It lets the flavours of the summer shine.