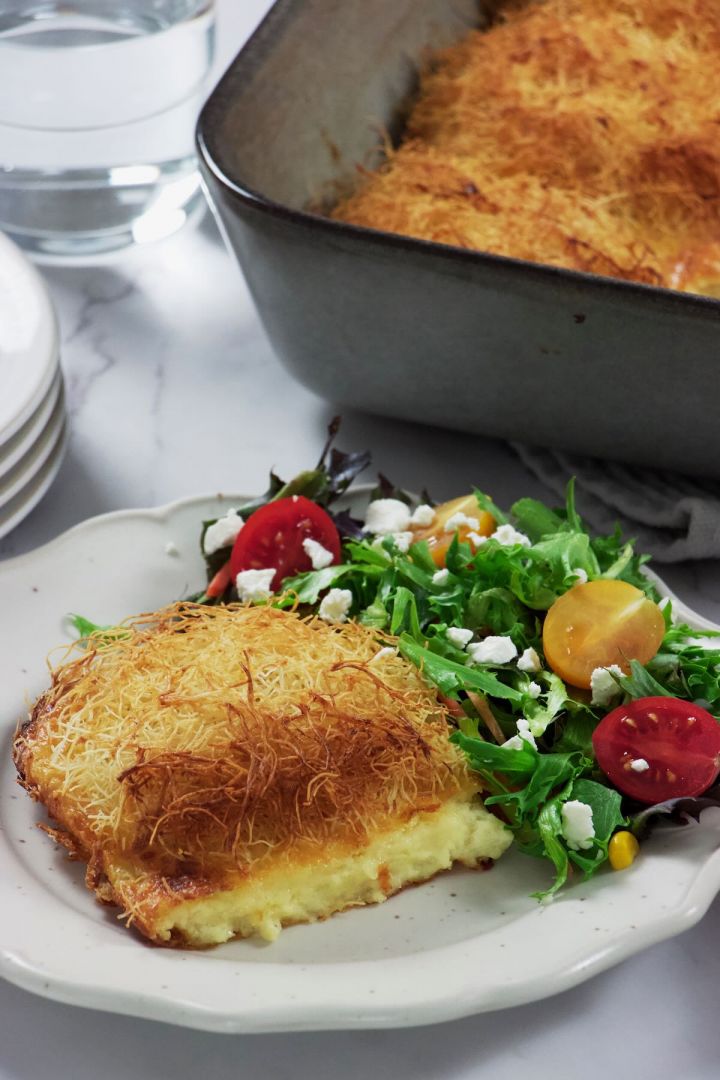 When it comes to the beloved Greek household, pies come first and kataifi pastry comes second! Kataifi is a lightly sweetened shredded filo dough widely used in Greece, often notably seen as 'kadayif' in Middle Eastern desserts – you might have tasted this in some baklava varieties without even knowing it! Despite kataifi's subtle sweetness and tendency towards being more of a dessert, Greeks love using it for savory pies and other delicious dishes. It's no secret that kataifi takes any savory pie up a notch, bringing out deeper flavors and giving dishes a unique texture like nowhere else.
If you're looking for a dish to steal the show at your next gathering, kataifi pastry is the ingredient you need! This recipe puts kataifi filo pastry nests to work in giving a unique spin on both traditional Hellenic pie and kataifi. With several varieties of melt-in-the-mouth cheese tucked into these nests and then baked in a pie dish, you get a rich filling with a light, crispy texture that will be sure to leave everyone wanting more. Be warned - this tasty treat is so irresistibly scrumptious that it may just cause a scene when it hits the table!
Everyone loves a special dish that requires time and effort, but let's be honest - who has the time? Kataifi pastry may not be available everywhere, but thankfully you don't have to send out a search party to locate it! Greek delis, online, and even some larger grocery stores carry kataifi pastry so you can get started on your cheese kataifi pie right away. Forgo the labor of creating the pastry from scratch and spoil your guests with this delicious dinner in no time. The result will be nothing short of spectacular - just make sure you save a piece for yourself!
Tips
After your delectable pie is baked to perfection, let it sit for a bit. This will give the flavors time to meld together and each layer an opportunity to crisp up nicely prior to serving.
Baking times may vary depending on oven type and size, so check regularly while baking until there is a golden brown color on top of the crust.
Keep your kataifi cheese pie fresh by storing it in an airtight container in the refrigerator for up to two days.
Directions
You will need about 2 hours 10 minutes to make 16 servings of this recipe, which has approximately 327 calories each. Make sure you have all the ingredients and follow these 8 simple steps. If you have any questions, send me an email and I'd be more than happy to help!
Watch it step-by-step!
Move over savory pies, kataifi cheese pie is here! This fascinating twist on the classic Greek household dish is made texturally unique with kataifi pastry. The strands of kataifi envelop a flavor-rich filling, creating an out-of-this-world experience for your tastebuds.