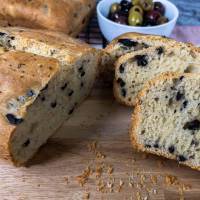 Olive Bread
14

servings

1 hr 55 mins
265 kcal

DF

NF

VG

VE
This Kalamata olive bread recipe reminds me why I bake bread. It's not something I do very often, as there are so many different types of nicely made bread these days. But this particular recipe is a bread worth baking! It's a straight-forward recipe, with just five steps and one rest period for the dough.
The rich flavour of Kalamata olives seeps through the soft crumb and the delicious olive oil crust is oily and chewy. I love this bread for nibbles before a meal - served with antipasti like sundried tomatoes and parma ham. It's also great as part of a light Saturday lunch, with soup and cheese. In fact I love it with everything, and it really doesn't last long in our household!
Tips
If you don't have a loaf tin, you can also form the dough in a loaf shape (or even small buns) and bake it in a tray by using a baking sheet underneath.