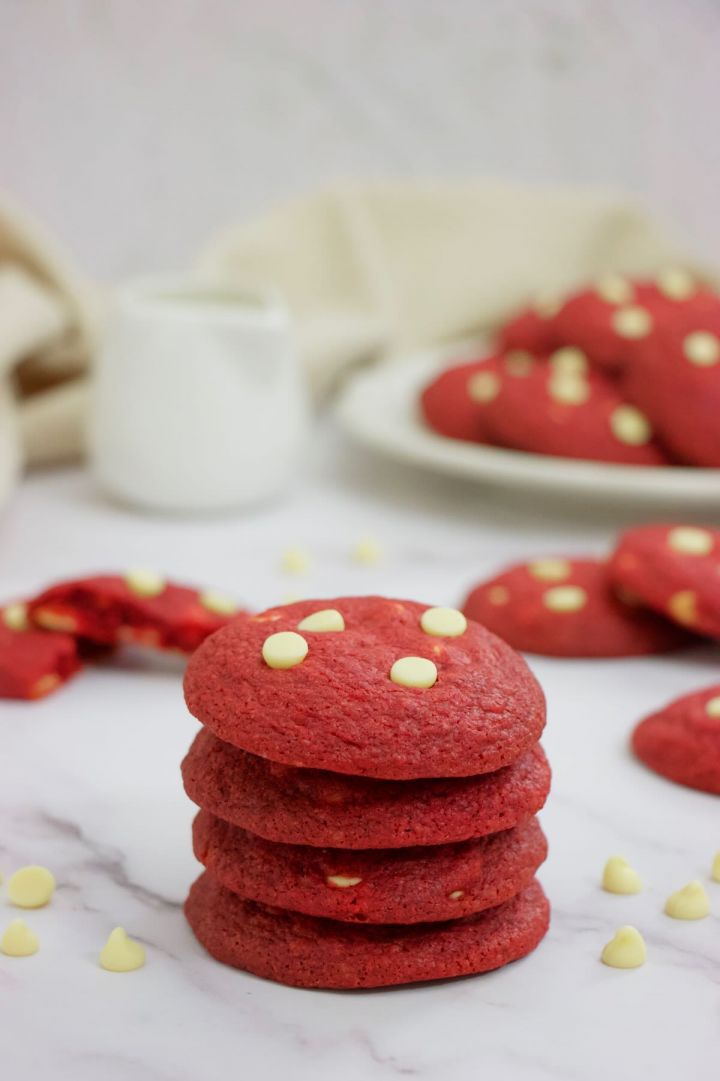 You've heard of red velvet cake, now try fooodlove's red velvet chocolate chip cookies! Don't you hate it when you buy a bag of cookies and they snap like a biscuit?! For me, a cookie has to be squidgy and bendy; crisp on the surface but gooey inside. These are the perfect 'squidgy' cookie, with that cocoa-infused red velvet taste and white chocolate chips melting in every bite. What's more, the colour makes them the perfect Valentine's Day baking recipe - or birthday party treat!
Try to find a paste food colouring rather than the liquid drops most easily available in the supermarket. The liquid ones just don't deliver the red colour as thoroughly, and if you use lots of extra fluid the moisture levels in the mix will get too high.
Feel free to swap for another colour of chocolate chips, too - but I prefer white, as I think it looks brilliant against the red, and also because that soft creaminess is a bit reminiscent of the cream cheese frosting you might top a red velvet cake with.
One more thing! If you're looking for a fancier Valentine's treat to wow that romantic dinner you're preparing, have a look at this gorgeous boiled chocolate cake!
Directions
You will need about 1 hour 15 minutes to make 24 servings of this recipe, which has approximately 132 calories each. Make sure you have all the ingredients and follow these 8 simple steps. If you have any questions, send me an email and I'd be more than happy to help!
Watch it step-by-step!
These red velvet cookies with chocolate chips are too good to resist. I can't believe that it took me so long to give them a try and I'm very pleased with the result of my first try! Soft, chewy and delicious, with white chocolate chips melting in every bite. The perfect treat for every occasion, especially Valentine's day!