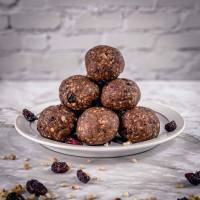 Energy Bites with Dates
12

servings

30 mins
195 kcal

VE
These no-bake energy bites are the perfect snack for before or after a workout - or just as a mid-afternoon energy boost. That's about the time that I can find myself in a slump, and be tempted to reach for the biscuits. These energy balls absolutely satisfy those afternoon cravings without making me turn to more processed and less healthy treats, like chocolate bars or biscuits.
The slow-release energy from the oats combined with the high levels of protein and fat in the nuts and the pleasing sweetness of the dates and cranberries makes for a really tasty, energy-packed snack. Soft, chewy and naturally sweet, this recipe is so delicious that my kids devour them in minutes! It's probably the one healthy habit I don't have to teach them!
Tips
Sometimes dates can make your mixture sticky, which makes it harder to roll each bite in small balls. If that happens, wet your hands before rolling each ball.