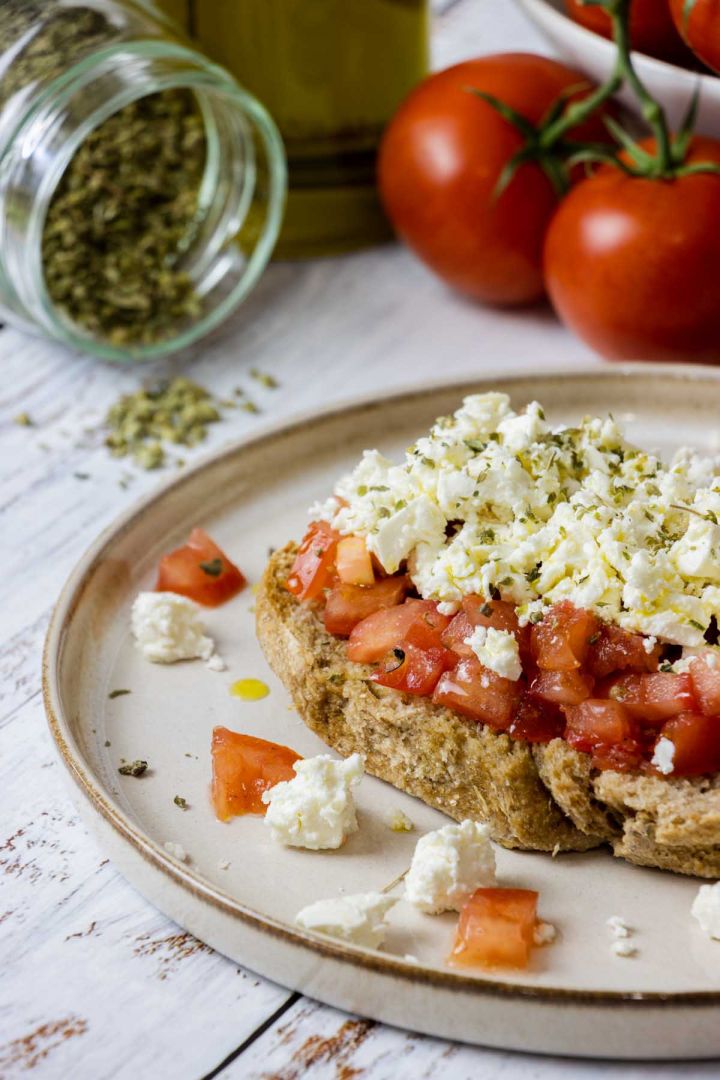 This recipe for Cretan Dakos, or 'krhtikos ntakos', is ideal for those summer days where you just want something light and vegetable based. A little reminiscent of an Italian bruschetta, it is basically a crisp bread or rusk topped with veg - most traditionally, tomato - and feta, alongside something zingy and savoury, like red onion, capers or olives. It's a perfect 'store cupboard' recipe, too, because you can keep the Dakos rusks in the cupboard for whenever you use them!
Dakos is a traditional Greek meze, or appetiser, made with kritharokoula, or barley rusks. Rusks are a type of hard, twice-baked bread that originated on the island of Crete. They are made with barley flour, or a combination of barley flour and whole wheat flour, and often contain sourdough. Rusks keep for a long time, which is why they were the preferred bread in times when people did not have the opportunity to bake often.
The key to making these rock-hard rusks into an enjoyable base for a gorgeous lunch is that you must soften them. DON'T skip that step, whatever you do! It's a perfect lazy Summertime lunch.
Tips
Instead of dipping the rusks in a bowl with water, you can also wet them momentarily under tap running water. However, you don't want to overdo it because they'll become soggy and start to break apart.
Once the rusks are wet, before adding any of the toppings, I like to microwave them for 10-15 seconds. This makes them slightly warm and a bit more tasteful.
Other suitable toppings are Kalamata olives and capers.
Directions
You will need about 10 minutes to make 2 servings of this recipe, which has approximately 612 calories each. Make sure you have all the ingredients and follow these 7 simple steps. If you have any questions, send me an email and I'd be more than happy to help!
Watch it step-by-step!
I refuse to accept that vacations are over and my social media feed still has photos of my friends having fun at various Greek beaches. So for today's snack, I've prepared a good old Cretan Dakos, which packs SO much Greek flavour!