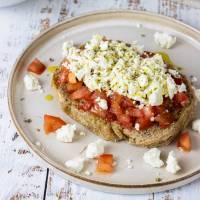 Cretan Dakos
2

servings

10 mins
612 kcal

NF

VE
This recipe for Cretan Dakos, or 'krhtikos ntakos', is ideal for those summer days where you just want something light and vegetable based. A little reminiscent of an Italian bruschetta, it is basically a crisp bread or rusk topped with veg - most traditionally, tomato - and feta, alongside something zingy and savoury, like red onion, capers or olives. It's a perfect 'store cupboard' recipe, too, because you can keep the Dakos rusks in the cupboard for whenever you use them!
The key to making these rock-hard rusks into an enjoyable base for a gorgeous lunch is that you must soften them. DON'T skip that step, whatever you do! It's a perfect lazy Summertime lunch.
Tips
Instead of dipping the rusks in a bowl with water, you can also wet them momentarily under tap running water. However, you don't want to overdo it because they'll become soggy and start to break apart.
Once the rusks are wet, before adding any of the toppings, I like to microwave them for 10-15 seconds. This makes them slightly warm and a bit more tasteful.
Other suitable toppings are Kalamata olives and capers.