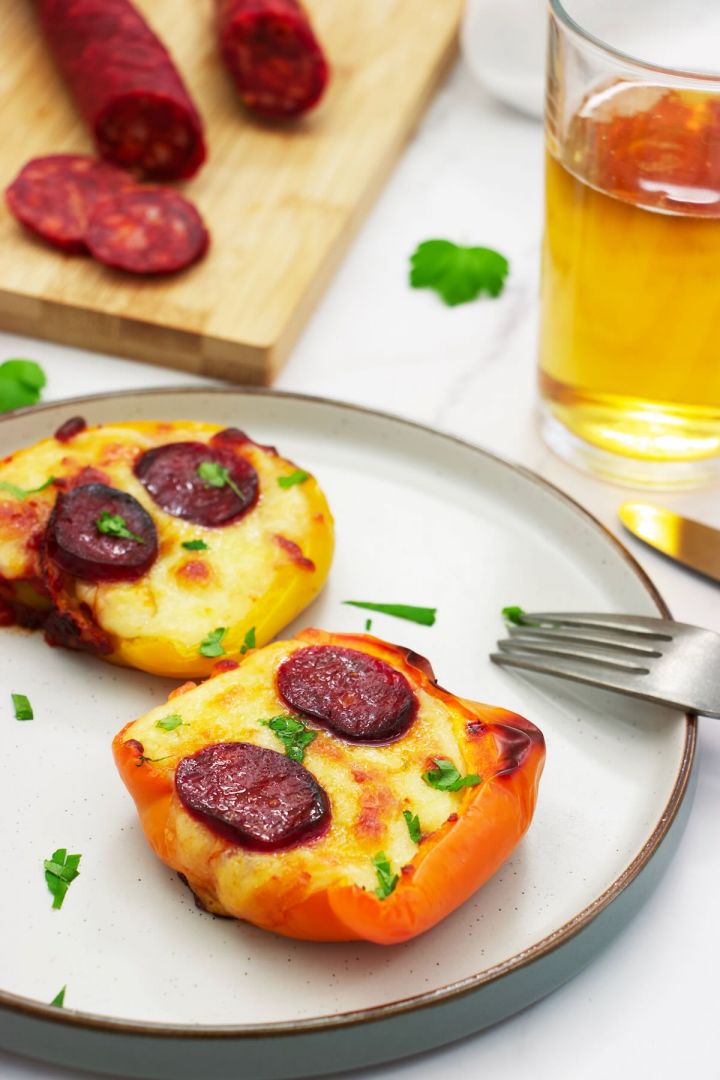 As you may know by now, I'm a veggie - but the rest of my family aren't! Although they're happy to eat tasty veggie meals a lot of the time, they sometimes ask for meat. So when they have a craving for meat-based products, I find chorizo an easy addition - it's something I can have in the fridge and its flavour packs a punch. A little goes a long way, I find.
These mozzarella and chorizo peppers are great quick and easy snacks to make with that bag of mozzarella cheese that you have in the fridge, and work well to ease those afternoon hunger pangs - what's better for a meat eater than a mozzarella chorizo snack, after all? They're pretty healthy too, so they're a snack I'm happy to dole out to my daughters when they're hungry after school. Because there's the bell pepper and the tomato sauce it means they're getting two portions of veg, and I often serve them up with an accompanying side salad for a light lunch or dinner, too - the pizza-like taste of the peppers means everyone's happy to nibble up some accompanying greens without complaint! For a veggie version, I do mozzarella peppers for myself - still scrumptious. If you're avoiding the chorizo, like me, or just fancy playing with the recipe, why not add a shake of paprika to the mozzarella for smokiness, or simply add a couple of basil leaves for that Mediterranean summertime taste?
Directions
You will need about 30 minutes to make 6 servings of this recipe, which has approximately 143 calories each. Make sure you have all the ingredients and follow these 6 simple steps. If you have any questions, send me an email and I'd be more than happy to help!
Watch it step-by-step!
These quick and easy mozzarella and chorizo-stuffed peppers make a wonderful snack, light lunch or midweek dinner. Although I'm a veggie, the rest of my family aren't, so I do cook meat products for them.