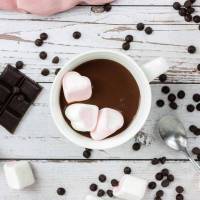 Thick and Creamy Hot Chocolate
2

servings

8 mins
480 kcal

VE
This hot chocolate is a family favourite when we want to snuggle up in front of a film, or get warm again after a chilly winter walk. Perfectly rich and satisfying, it's great to warm you up, from the inside out! Made from pure chocolate, its thick and creamy texture is definitely a treat for both the kids and the adults at our house.
I have been known to reach for a hot chocolate myself, late in the evening, when there's no dessert planned! It's indulgent, so it's not for everyday - but we all deserve to treat ourselves sometimes!
Tips
If you prefer your chocolate less creamy, reduce the amount of corn starch to your liking.