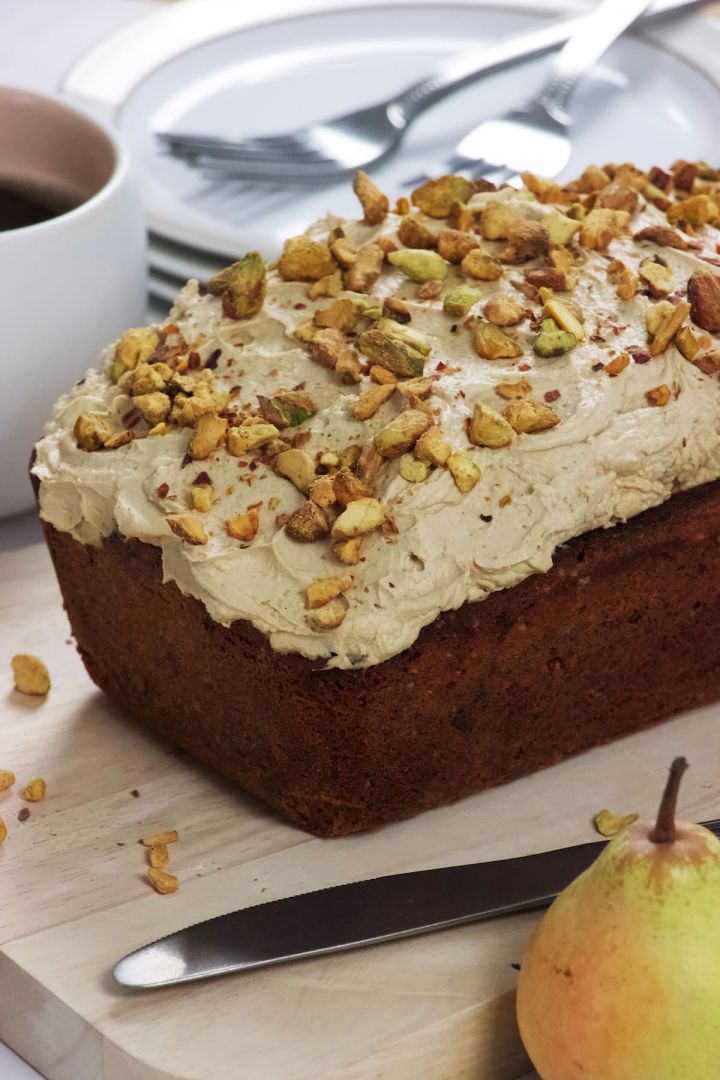 The nut obsession in my family runs deep! I never knew how far the love for pistachios would go until much to my surprise, it started showing up on our grocery list every week. It took me back to a wonderful memory of when we were treated with an amazing tasting cake by dear old dad-in-law - who sure knows his way around the kitchen from time to time!
He showed us that pears and pistachios are the yin-yangs of cakes–a symphony in sweet harmony. The pistachios have a nutty flavor and the pears are juicy and delicious. Together, they make a cake that's yummy and special! Naturally, I had to have the recipe so I could make it my own; giving it my family's personal stamp of approval!
An epic bake-off was about to begin and it certainly didn't disappoint! I'd crafted a chocolatey, pistachio, and pear cake that had even the fussiest of taste buds marveling. Then someone in the room made an incredible suggestion - why not top this masterpiece with something coffee flavored? So instead of the chocolate ganache topping from the original recipe, we opted for something more refined: cream cheese frosting flavored with coffee. An absolute stroke of genius if I do say so myself… Needless to say, there wasn't much cake left when our taste buds got hold of it.
This cake was initially made with a round-shaped tin and would last up to seven days in an airtight container at room temperature. However, after introducing my cheese frosting, preserving the cake became difficult because it would become much too dense when refrigerated. The simplest solution was to divide the cake slices and cover them with cheese-frosting prior to serving. Yet, I sought a more effortless approach; thus, turning the whole thing into a loaf became my go-to strategy! Not only is it relatively petite in size but also it's almost guaranteed that this delectable dessert will be gone within 48 hours!
Treat yourself to a truly indulgent experience and make this scrumptious cake for your next special occasion! Every bite will be like a little piece of heaven, with juicy pears, luscious chocolate chips, creamy cheese frosting, and a hint of coffee. Don't wait too long - it's best enjoyed fresh outta the oven!
Tips
If pistachios aren't your cup of tea, almonds and hazelnuts are delicious alternatives!
If you intend to save the cake for later, be sure to store the cream cheese frosting in your refrigerator and the cake itself in an airtight container at room temperature.
To simplify things, you can top this off with a dusting of icing sugar instead of the mascarpone frosting for a more effortless yet tasty result.
Directions
You will need about 1 hour 10 minutes to make 10 servings of this recipe, which has approximately 542 calories each. Make sure you have all the ingredients and follow these 12 simple steps. If you have any questions, send me an email and I'd be more than happy to help!
Watch it step-by-step!
My family has an obsession with pistachios that dates back to a magical memory of the pistachio and pear cake my father-in-law is famously renowned for.