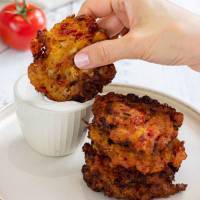 Greek Tomato and Feta Fritters
14

pieces

50 mins
110 kcal

NF

VE
These Greek tomato and feta fritters, or 'ntomatokeftedes' in Greek, are a real favourite of mine. In fact, there was a period of time (back when we lived in Greece) that I'd choose them almost every time we'd go out for food! I liked them so much that I started experimenting on my own recipe, so I could make perfect 'ntomatokeftedes' at home.
This meze is popular in Greek tavernas, especially in the islands, and to me it just shouts out summer. In those hot days when an abundance of fruits and vegetables are ready to eat, I don't think there's anything better than biting into a freshly-picked tomato, still warm from the sun! This recipe makes the most of that tomato flavour, combined with fresh and salty feta. This is a simple recipe - but it's so tasty! It really is a must-try.
Tips
Depending on the juices coming out of the tomatoes, if the mixture gets too runny and you can't form the patties, add a couple of tablespoons of flour to the mixture.