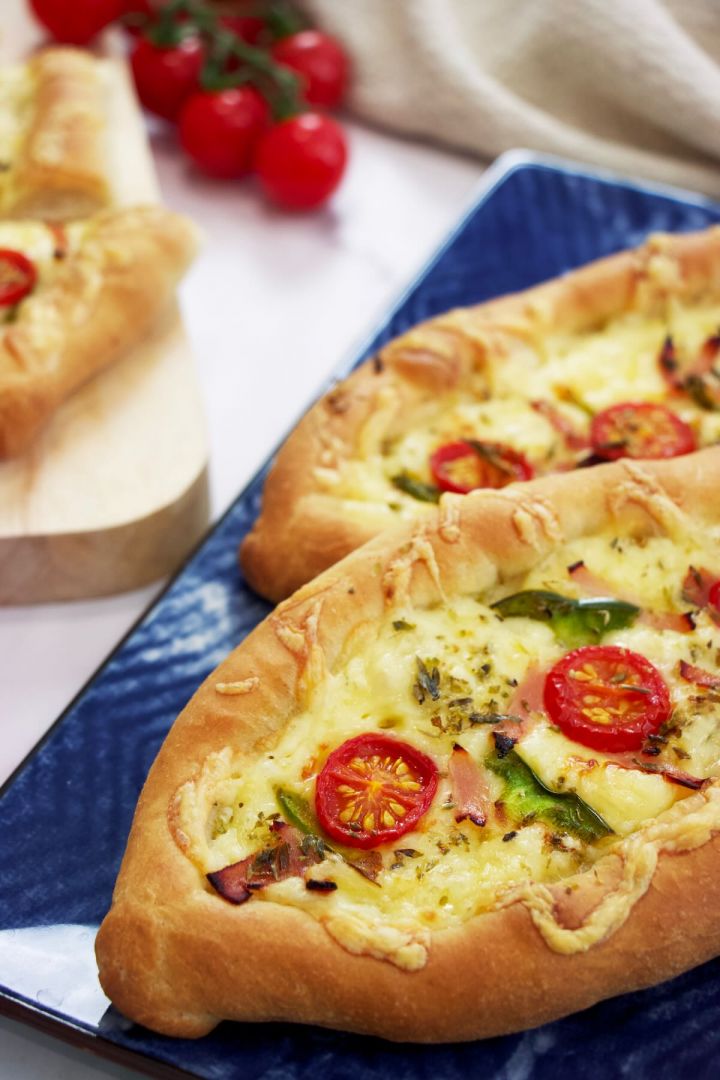 The Peinirli is a real favorite in our household. These are traditional Greek pizzas, shaped like little pizza boats. Slightly smaller than a regular Italian pizza, they're perfect as a treat for one. They can carry all sorts of toppings, so are a favorite for all the various taste preferences in our family. It's super-easy to rustle up a veggie option for me too, which makes life easier! Having to bake a meat-eaters meal and a veggie-friendly meal on top can sometimes just feel like a step too far!
The Peinirli origin story comes originally from Turkey. Turkish 'pide' are the same boat-shaped pizzas, and the Greek name 'peinirli' came from the Turkish word for cheese - 'peinir'. Peinirli usually features a basic cheese filling, to which you can add whatever you fancy - be that tomato, olive, onion, egg, spinach, ham, or bacon… the options are about as endless as you can imagine toppings for an Italian pizza!
When heading back to Greece, we can't help but savor a delectable peinirli–an irresistibly tempting breakfast option! Everyone in the family (yes, us adults too!) have fallen head over heels for this classic Greek favorite that proudly made our 7 must-eat bakery bites list.
It turns out some regions of Greece make peinirli in an altogether different shape. Rather than the traditional flat-bread style, it's served in a closed oval resembling a bread bun. Then they slice it open while you watch and pour on your choice of savory fillings like salads, potatoes, cold cuts, and cheese - all making this savory treat something truly unique. It was such a delightful treat for me when I visited Volos - one that I'm still salivating over today. Maybe this deserves its own recipe…
Tips
Depending on the kind of flour you use, it may be necessary to add 1-2 tablespoons extra in order to prevent your dough from becoming overly sticky.
Directions
You will need about 2 hours to make 10 pieces of this recipe, which has approximately 400 calories each. Make sure you have all the ingredients and follow these 9 simple steps. If you have any questions, send me an email and I'd be more than happy to help!
Watch it step-by-step!
Greek Peinirli, or pizza boats, come from the Turkish 'pide'. These gorgeous little bakes are a bakery must-buy when we're back in Rhodes (I must admit, they become a bit of a breakfast staple!), but I'm not prepared to do without them when back in the UK!