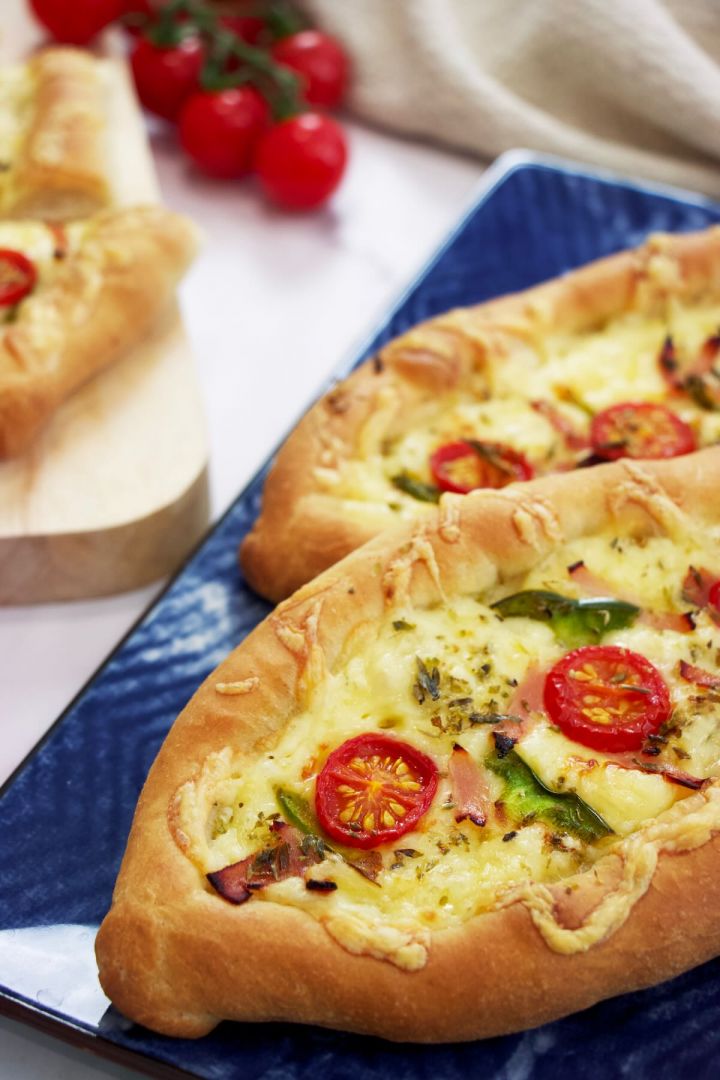 The Peinirli is a real favourite in our household. These are traditional Greek pizzas, shaped like little pizza boats. Slightly smaller than a regular Italian pizza, they're perfect as a treat for one. They can carry all sorts of toppings, so are a favourite for all the various taste preferences in our family. It's super-easy to rustle up a veggie option for me too, which makes life easier! Having to bake a meat-eaters meal and a veggie-friendly meal on top can sometimes just feel like a step too far!
The peinirli origin story comes originally from Turkey. Turkish 'pide' are the same boat-shaped pizzas, and the Greek name 'peinirli' came from the Turkish word for cheese - 'peinir'. Peinirli usually feature a basic cheese filling, to which you can add whatever you fancy - be that tomato, olive, onion, egg, spinach, ham or bacon…the options are about as endless as you can imagine toppings for an Italian pizza!
When we return to Greece, Peinirli is one of our favourite bakery options (we mention it in our blog on the 7 must-eat Greek bakery bites). The kids (well, to be honest, my husband and I too, I suppose!) are often tempted to enjoy a Greek peinirli for our breakfast - it's a popular choice!
Tips
Depending on the flour used, you may need to add 1-2 tablespoons of flour to avoid the dough being too sticky.
Directions
You will need about 2 hours to make 10 pieces of this recipe, which has approximately 400 calories each. Make sure you have all the ingredients and follow these 9 simple steps. If you have any questions, send me an email and I'd be more than happy to help!
Watch it step-by-step!
Greek Peinirli, or pizza boats, come from the Turkish 'pide'. These gorgeous little bakes are a bakery must-buy when we're back in Rhodes (I must admit, they become a bit of a breakfast staple!), but I'm not prepared to do without them when back in the UK!