Greek bakeries used to be a simple affair; a small shop offering a couple of bread types and maybe a couple of pastries, like a cheese pie - all cooked in a huge wood-fired oven.
I remember this from when I was around ten years old. At baking time, the gorgeous scent of fresh bread would waft through the neighbourhood!
The best thing was that housewives could take a pan, containing whatever they were cooking that day (e.g. gemista, giouvetsi, or pastitsio) along with them to the bakery and leave it with the baker, asking them to bake their dish alongside the bread! Many small bakeries offered this extra service, in rural places and small towns. My husband remembers his grandmother doing it in Volos, and this certainly happened in my birthplace of Rhodes, too!
Greek bakery produce
Although the lovely practice of leaving your dinner to bake is much rarer now, Greek bakeries have made up for it by offering many more delicious products. They usually offer many different kinds of bread, as well as cookies, biscuits, desserts, and pies, both savoury and sweet. In recent years, plenty of them offer coffee, too. There is something to tempt every palate!
Some are better than others, of course. Whilst some (most of the big chains) offer frozen goods that are just baked in-house, the bakeries with in-house bakers and pastry chefs offer amazing breads, and double as patisserie shops.
7 things you have to try in a Greek bakery are:
Cheese pie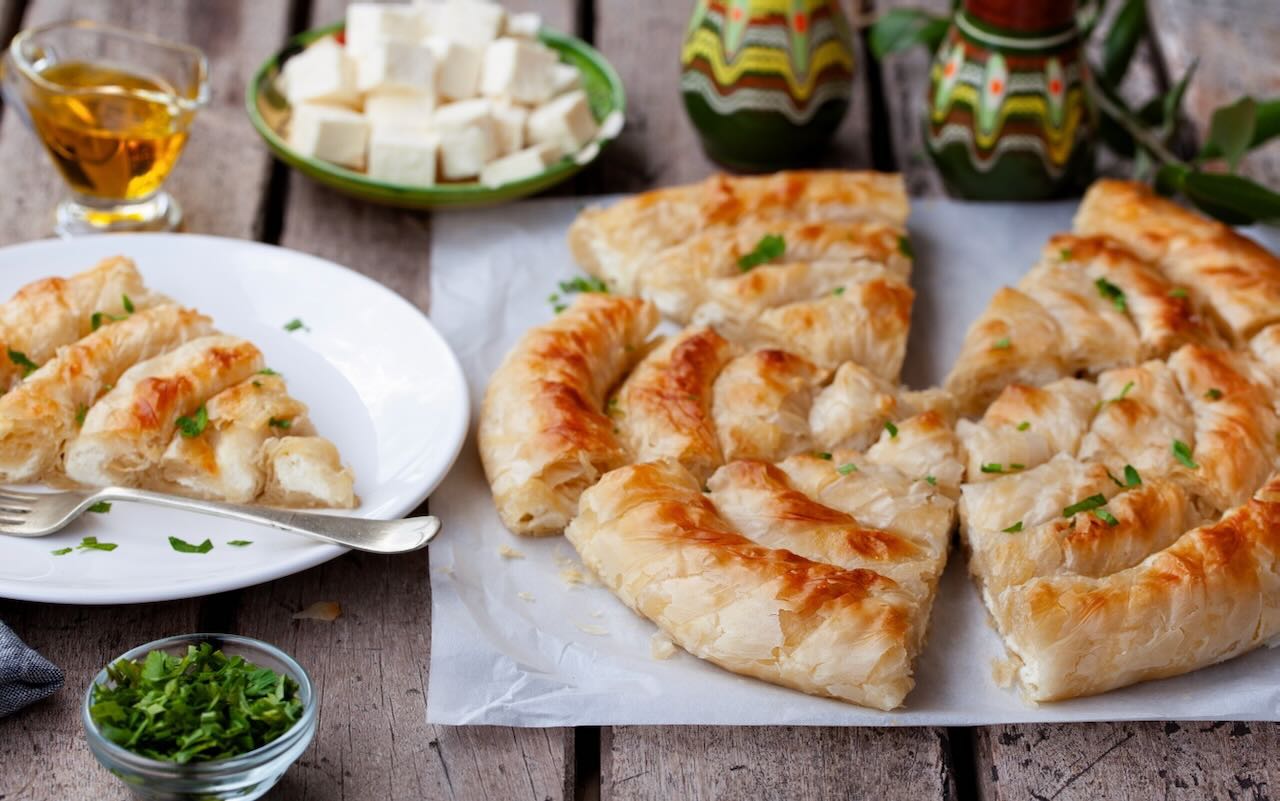 This is a traditional Greek favourite, and a must-try in any Greek bakery. There are so many variations and different types of cheese pie, but the one you _have_ to try is a good Kourou Cheese Pie, filled with feta cheese.
The best cheese pie we have EVER tried is in Symi. My father is from Symi, and hopefully we'll visit next summer. Their unique, traditional dough recipe makes it an unusual but completely amazing taste, and they use local or locally-loved cheeses (usually a hard cheese like regato - a popular cheese in Greece that is actually made in Ireland! - and mizithra, a Greek whey cheese, instead of feta).
Spinach pie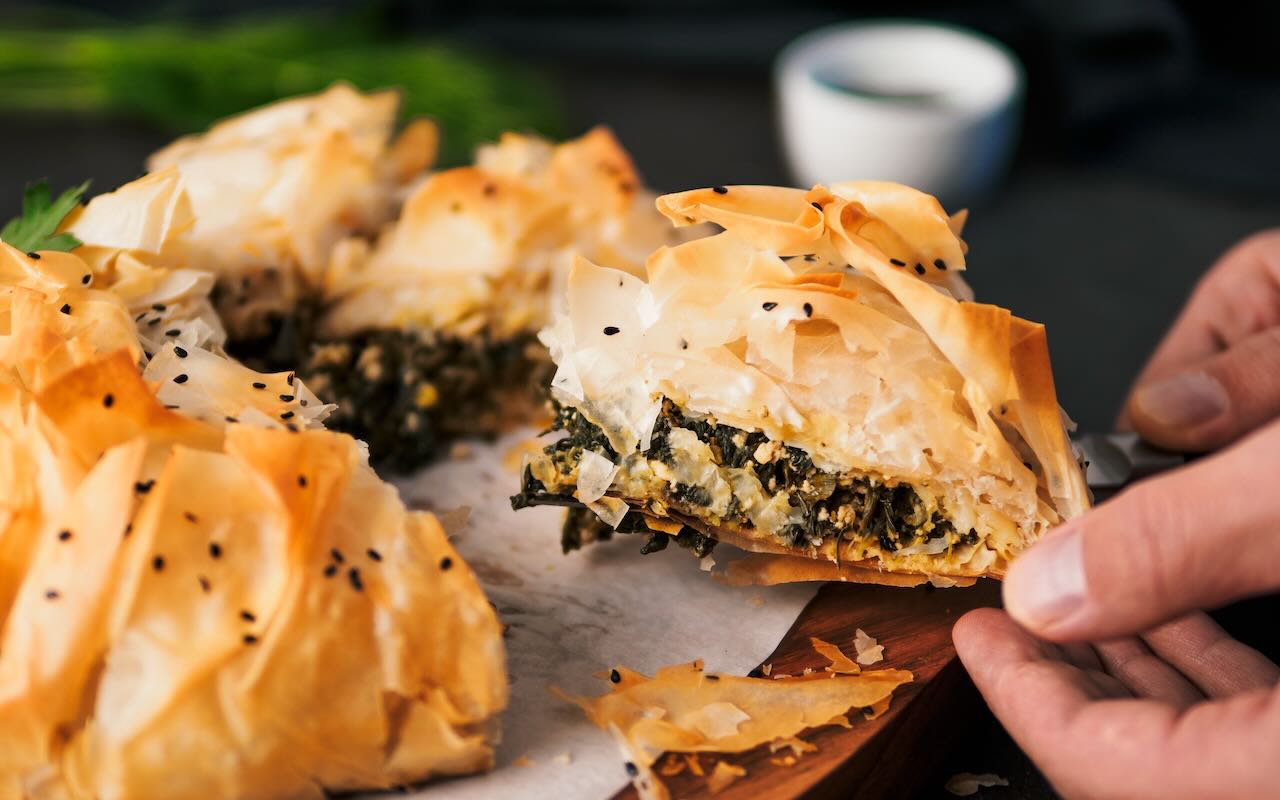 This is a staple in Greek bakeries. In rural areas there is often another option - the 'hortopita', with wild greens in there alongside the cheese ('horto' means greens and 'pita' means pie). This even comes in vegan forms (without the feta), as it was a popular option for times of fasting in the Orthodox calendar. My spinach tart is not the same (swapping filo pastry for shortcrust), but it packs the same flavours in, with the spinach and feta.
Koulouri with sesame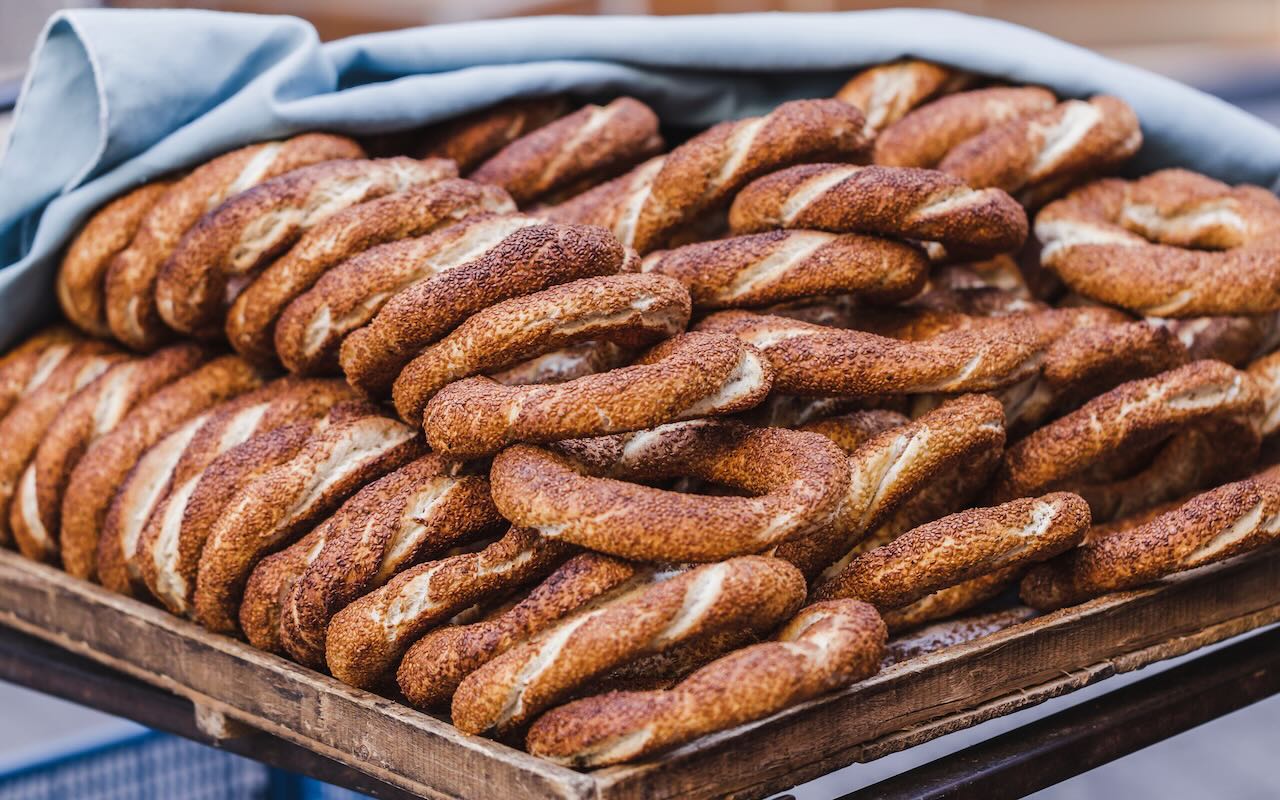 A traditional snack widely available throughout Greece, the Koulouri traditionally come from Thessaloniki. They are a very common 'quick breakfast' that everyone likes with their morning coffee. Koulouri are great on their own and popular topped with cream cheese. You could even do as my husband and I have gotten into the habit of doing - spreading them with ricotta cheese and a drizzle of honey.
Nowadays there are even some bakeries that slice these open and fill them with ham and cheese, as a Greek version of a bagel! However you eat them, they're best fresh from the bakery in the morning, as they'll begin to harden after only a few short hours.
Peinirli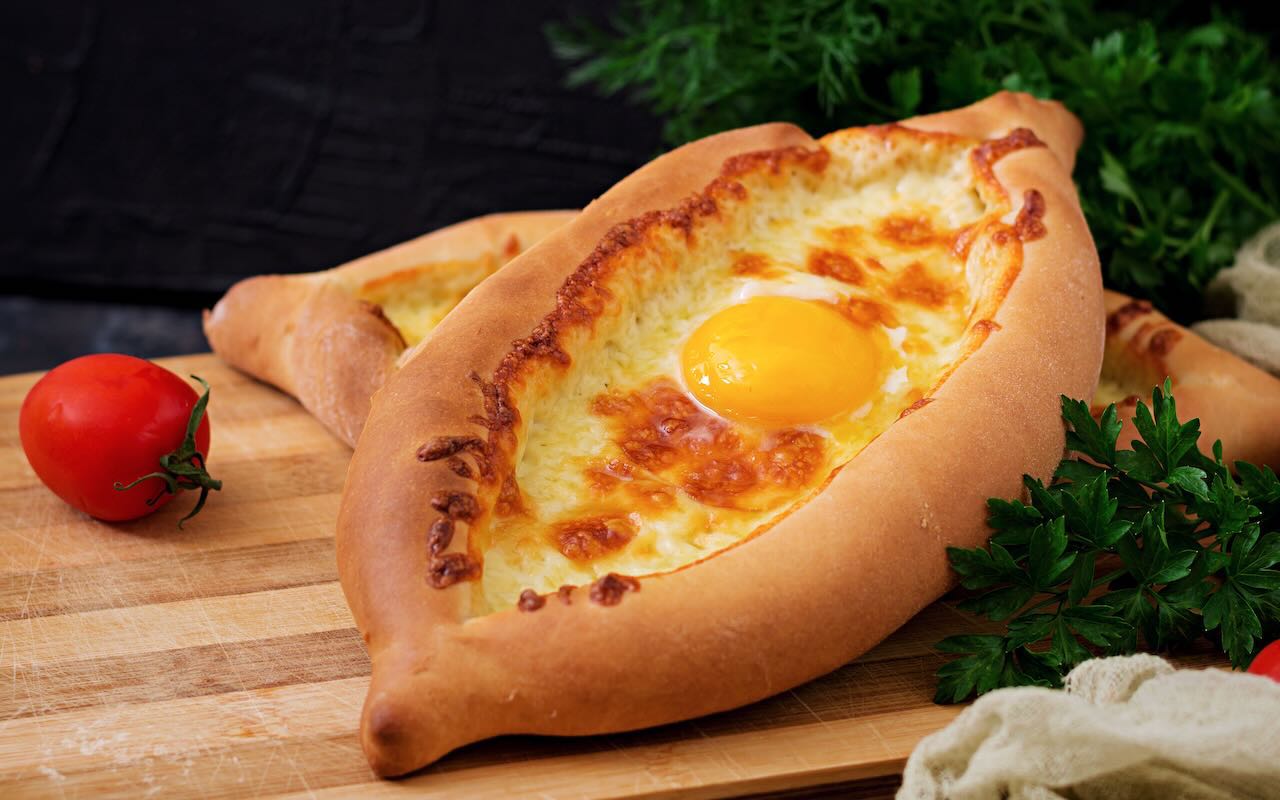 This pastry originates from Turkey, as 'peynir' translates as cheese. We can maybe make comparisons to Paneer cheese from the Indian subcontinent too. This dish was brought back to Greece by immigrants from the rich and diverse cultures of the Black Sea. Peinirli are one of the most popular (and tasty!) bakery fast food options, and can be found with a range of fillings - though Kaseri yellow cheese is pretty crucial. In Turkey these oval-shaped pizza-looking pastries are called pide.
If you're ever in Greece, do yourself a favour and try out one of the many amazing bakery items - like a delicious Peinirli. And if you can't make it to Greece anytime soon, don't worry – I have a Peinirli recipe for you so that you can enjoy this deliciousness at home!
Bougatsa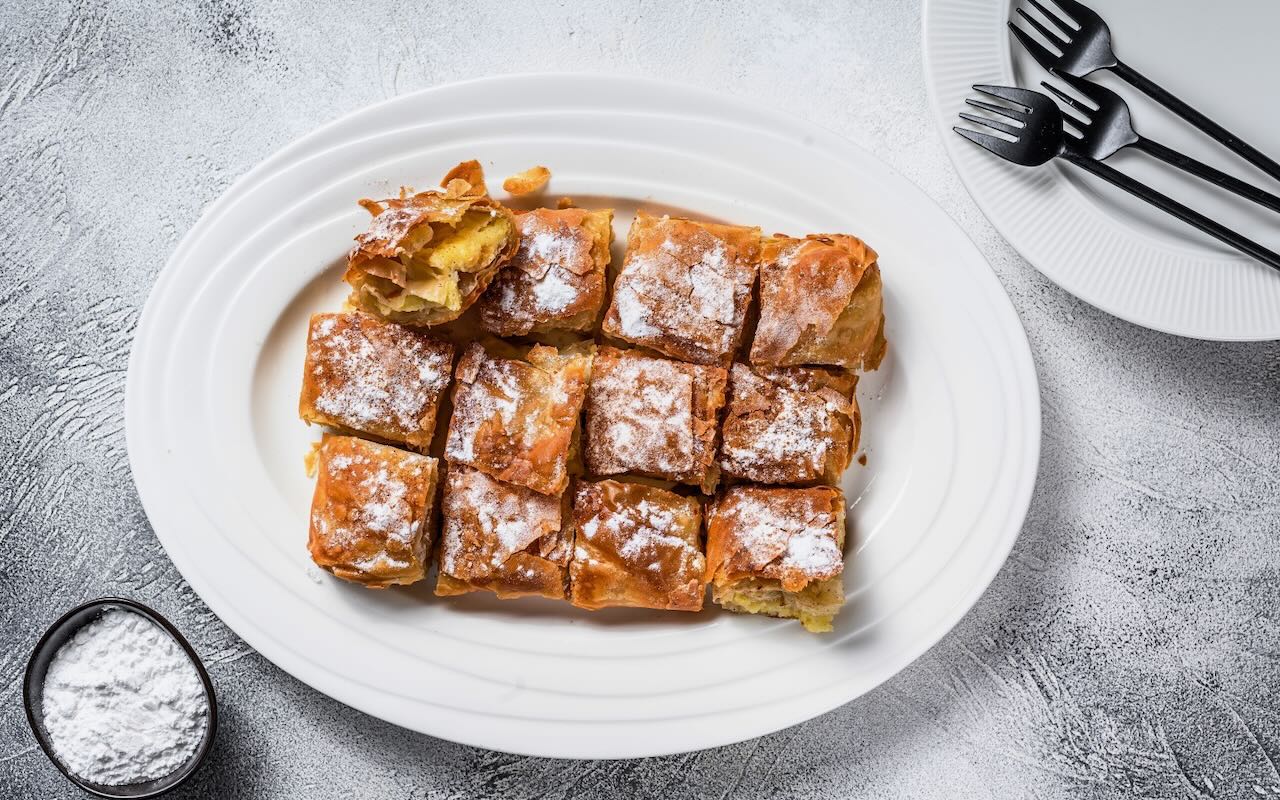 This breakfast pastry can be savoury, but we prefer the sweet option, where it is served stuffed full of custard cream, wrapped in filo pastry and served warm, topped with a dusting of icing sugar and cinnamon. An ancient cousin of the focaccia (hence it's name), the bougatsa is particularly popular in Thessaloniki, where they serve it cut into small pieces. Some of the best bakeries even still make the filo (phyllo) pastry by hand!
Portokalopita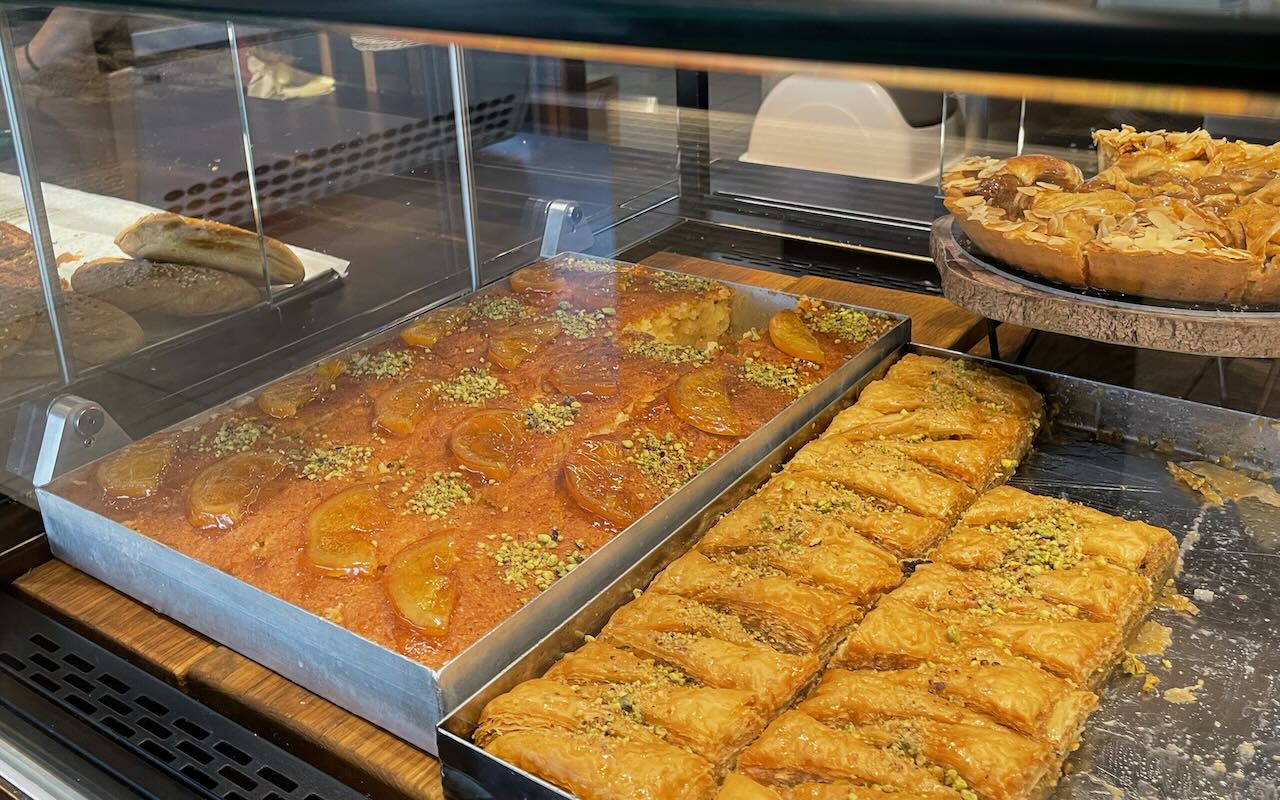 Portokalopita, or orange pie, is in the category of 'siropiasta' in a Greek bakery - the types of bakes that are more desserts, as they are often full of syrup!
Portokalopita was the inspiration for my Orange filo pie; though portokalopita doesn't use filo, the syrupy orange taste is exactly the same. When you're in the siropiasta aisle, it's easy to opt for a honey-dripping mouthful of baklava, but don't forget to try options like the ravani (a moist and syrupy coconut cake), and the portokalopita too.
Petit fours or biscuits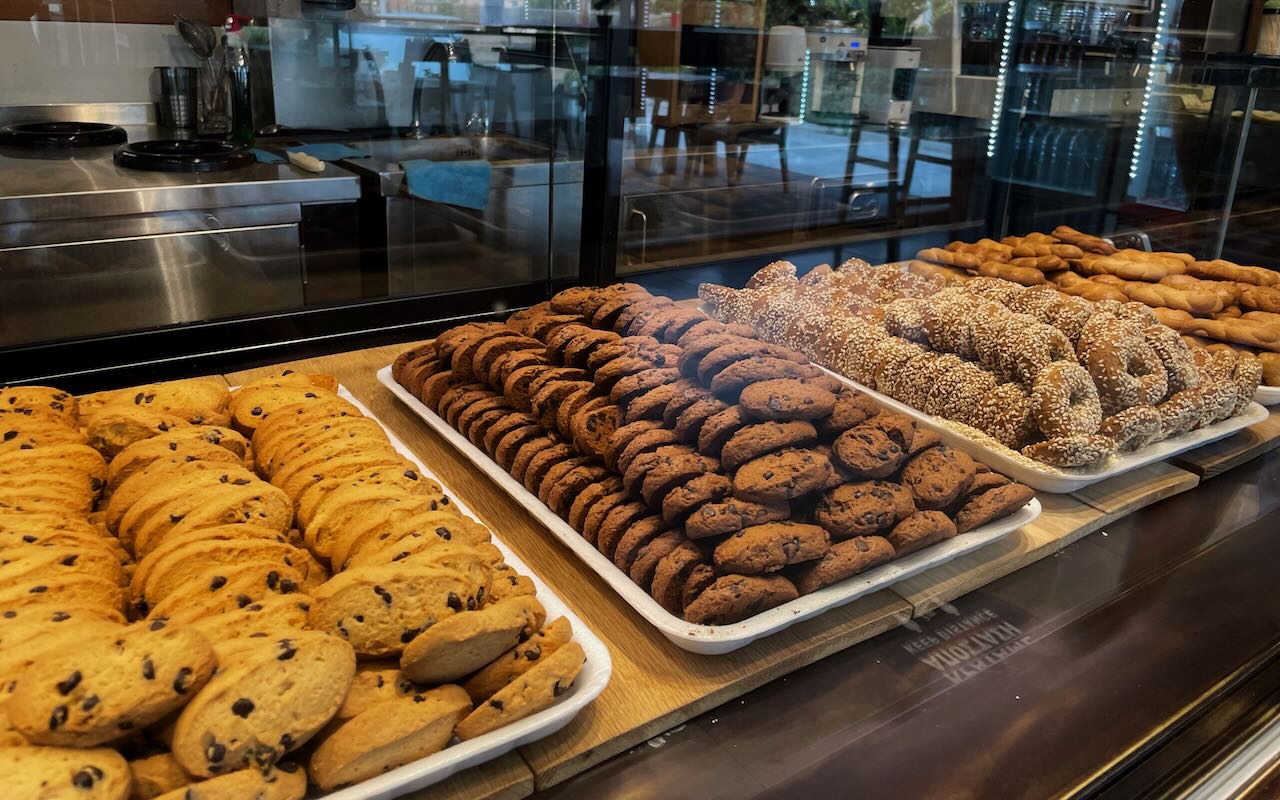 In Greece they're known as 'voutimata'. 'Voutao' is the verb for dip in, so that may give you a clue that your voutimata is destined to be dipped into your coffee.. There's a huge variety of these, in terms of flavour, texture and size. Just like the ever-popular biscuit and cup of tea in the UK, we buy a box of voutimata as a gift on a social visit, but also to have at home as a sweet snack to accompany your coffee.
These are mine (and my family's) top 7 bakery items which we immediately sniff out as soon as we're back in Greece! But really, there isn't really anything you shouldn't try when in a Greek bakery, as everything is delicious. Just make sure to sniff out a good local bakery where they make everything in-house, and make your way through the menu!