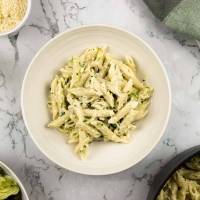 Creamy Zucchini Penne
6

servings

25 mins
667 kcal

VE
This creamy zucchini penne (or courgette penne, for all my UK readers!) makes a healthy vegetable the star of the show. For this tasty dinner, the little tubes of penne are a great choice for catching the sauce, although rigatoni, maccheroni or even straight pasta like tagliatelle or spaghetti will do in a pinch.
When there are lots of palates around the table, especially with little ones, it can be hard to leave everybody in the family satisfied.  This is a dish that always succeeds for me in that regard! I am a veggie, but my family all eat meat. Nevertheless, this dish is a big hit, and a great no-meat meal to have in your repertoire.
Tips
For a lighter version of this recipe, reduce the double cream to 100ml and instead of adding 1 ladle of boiled water from the pasta, add 150ml.