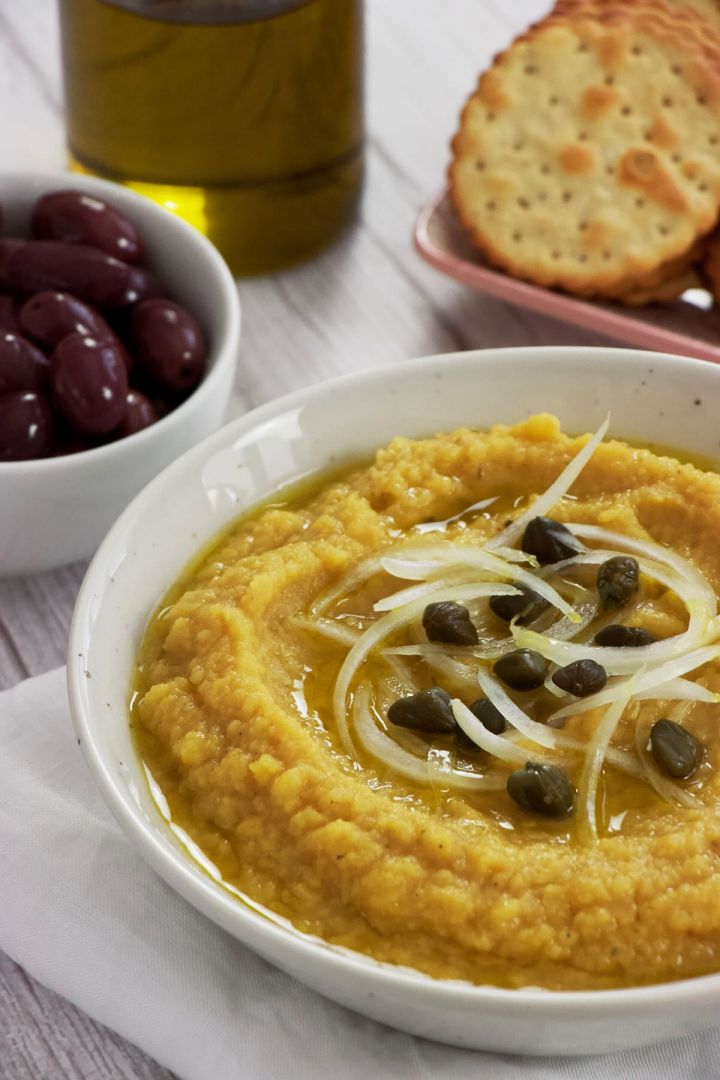 I grew up steering away from Fava. I'm not entirely sure why, but I believe it has to do with children judging something without even giving it a chance. They see the world from a different perspective than adults and this can sometimes cloud their judgement. Especially when it comes to food. There are times when my daughters' behaviour is so similar it drives me up the wall, but I always manage to get them to try something new!
Funnily enough, at some point in my grown-up life, I ended up in a very picturesque Greek taverna in Ikaria that had a very limited set of appetisers. One of them was this gorgeous Fava in a little dish drizzled with olive oil and garnished with a few capers. It took me a few minutes to change my mind about not liking something I'd never tasted. I took a tiny amount of Fava and spread it on some bread, and my eyes literally lit up the moment it made contact with my tastebuds! How had I gone so long without trying this?
Many people don't realise that Fava is different from Hummus. Although they might look a bit alike, their taste is entirely different. The key difference between Hummus and Fava is that Hummus contains chickpeas while Fava's primary ingredient is yellow split peas. While both yellow split peas and chickpeas are legumes, the former has a more unique flavour profile. Fava comes from Santorini and is typically prepared with Santorini Fava beans, but a trip to Santorini isn't cheap these days. This is most likely why yellow split peas became the standard component in Greek restaurants serving Fava.
Fava is not only delicious, but it's also quite healthy since it includes a substantial amount of cholesterol-reducing fibres that keep fat molecules from entering circulation. This dish is simple to prepare, it requires only a handful of ingredients, and most importantly, it's incredibly delicious! This is one of the most popular appetisers for a good reason.
Tips
The cooking time of split peas can range, so it's best to frequently check them while they simmer. You'll know they are ready when they are soft and have absorbed most of the water. If not, add some extra boiling water (around 100 ml).
Some split peas may require to be soaked in a bowl with boiling water before using them in this recipe. Check the product's packaging for further information.
It's normal for fava to be a little watery while it's hot. Its texture will solidify once it has cooled down.
If you don't like thin sliced onions and capers, feel free to garnish this dish with caramelised onions and cherry tomatoes instead.
Directions
You will need about 55 minutes to make 4 servings of this recipe, which has approximately 275 calories each. Make sure you have all the ingredients and follow these 6 simple steps. If you have any questions, send me an email and I'd be more than happy to help!
Watch it step-by-step!
When I was younger, I never had a particular interest in Fava. I would see it on restaurant menus and I would always steer away from it, not really knowing what it was. Life has a funny way of making you re-evaluate your preferences though, and that's exactly what happened with me and Fava.