Food is crucial to Greek culture, but as Ancient Greek philosopher Epicurus once stated, "[w]e should look for someone to eat and drink with before looking for something to eat and drink." It isn't only the food that makes Greek food culture what is is; the crucial element is the social act of sharing food.
Greek Ingredients
The traditional Greek diet is based around vegetables and fruits, wholegrains, beans and legumes, fish, and some dairy like cheese and yoghurt. Because of the climate, Greece is rich with an array of fruits and vegetables, and many Greeks work in or adjacent to agriculture (or at least grow lots of food in their own gardens) - so utilising good quality raw ingredients is a no-brainer. Alongside the Greek propensity to cover everything in olive oil (a healthy fat), Greek and Mediterranean Diets are regarded as some of the healthiest in the world.
Apricot, peach, nectarine and cherry trees grow easily, amongst the later figs and grapes scattering hillsides. Melon and watermelon especially are favourite summertime desserts, whilst in winter we enjoy the bounty of citrus fruits like mandarins, oranges and lemons, as well as kiwis. The warm days encourage tomatoes, aubergines and peppers, alongside a full roster of vegetables from peas to potatoes to beans, and plentiful herbs. Olive trees, of course, are central to the cuisine. 60% of Greece's arable land is dedicated to growing olive trees, meaning that there are 132 million olive trees for a country of 11 million people!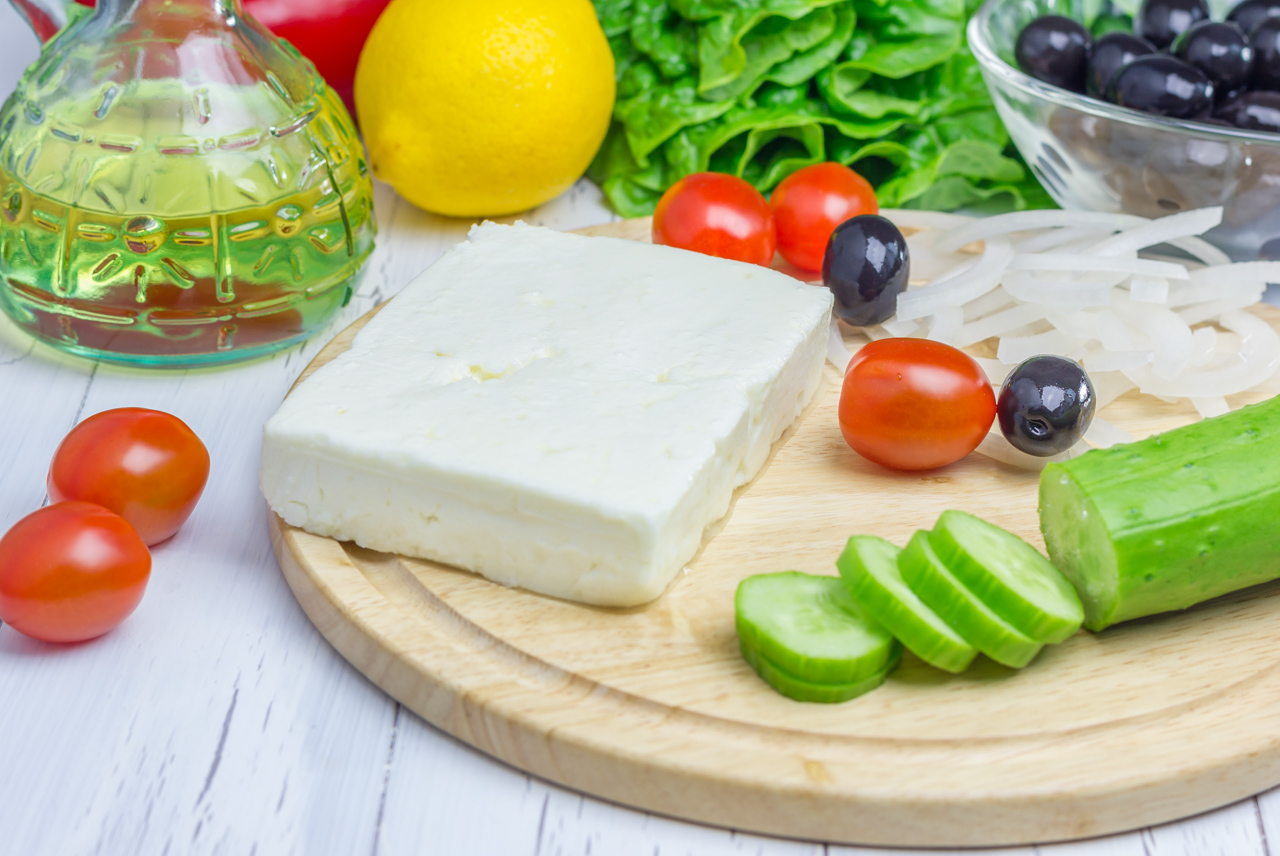 Alongside the olive oil is feta cheese - not grown, but made, from sheep's milk. Greek olive oil and Greek feta are absolutely foundational, and very few Greeks are prepared to substitute these - these two ingredients are the heart of many a traditional recipe!
Greek food: Where, and when?
We don't necessarily enjoy routine "breakfast, lunch and dinner" as is more traditional in the UK.
More like other Southern European countries, Greek breakfasts are often light (or indeed, non-existent). A larger breakfast might consist of bread or pastry, some dairy (cheese or yoghurt), local jams and cold cuts. Many Greeks will go without breakfast though, perhaps stopping for a coffee and a few koulourakia around 11.
Traditionally, there is one main meal of the day. Most will eat this main meal at lunch time - but, again, common to other South European countries like Spain and Italy, this is more likely to be somewhere between 2-5pm rather than midday.
Anything eaten at night is likely to be a light snack, following your bigger lunchtime meal. Dinner might consist of leftovers from lunch, some fruit and yoghurt, or a salad, and is likely eaten much later, depending on your evening plans! Younger Greeks are beginning to move towards bigger meals in the evening, though. Enter a restaurant before 9pm in Greece and you're unlikely to see a Greek dining.
During big festivities and holidays like Orthodox Greek Easter (for many, the biggest celebration in the year, held on a different date to Western Easter due to us following the Julian Calendar instead of the Gregorian one), preparing the food might take days. However, we do spend hours and hours eating these special meals too, enjoying the fruits of all that hard work.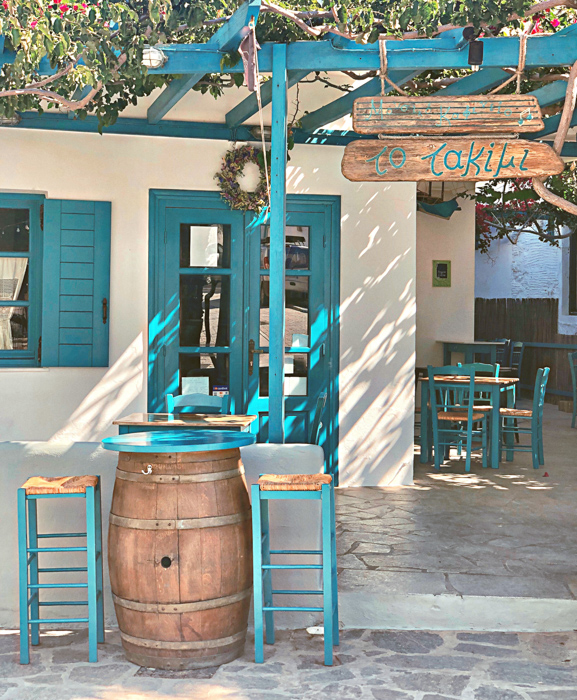 If you visit Greece, you may be wondering what sorts of meals are served at what types of establishments. It can be hard to decide where to go for dinner if you're not sure what sort of venue it is! Here's a list of some of the names you'll come across:
Kafeneio - a traditional, simple Greek coffee shop where older men traditionally meet to spend hours discussing politics and local gossip. These often serve coffee and spirits, but usually no food. Check out our blog explaining the difference between kafeneio and kafeteria.
Kafeteria - Greek kafeteria are usually more modern coffee shops, which often serve a little food to go alongside your coffee, even if that's just a pastry or small sandwich.
Souvlatzidiko / Psistaria / Psitopolio - these are all souvlaki places, or grill houses, for simple grilled meats and salads.
Taverna - this is a basic, homely restaurant which often has a large menu featuring plenty of traditional dishes, and usually at purse-friendly prices.
Magirio - This is a basic taverna serving up traditional Greek dishes at purse-friendly prices.
Inomagirio - The same as a magirio, with a focus on house wine (although many magirio serve this too)
Koutouki - A smaller, cosier version of a taverna.
Psarotaverna - an (often more upmarket) taverna with an emphasis on fish and seafood.
Estiatorio - this is a restaurant rather than a taverna, so is usually more upmarket and less informal.
Mezedopolio - this is a restaurant specialising in small dishes - meze - focussing on socialising and drinking, with food to accompany.
Ouzeri / Rakadiko - a smaller version of a mezedopolio, serving meze to accompany the strong Greek spirits ouzo and raki.
The modern day challenges
I was brought up on traditional Greek recipes and ingredients; this is the diet my passion for food is based around! The fact is, according to the World Health Organisation's COSI studies, shocking numbers of Greek children today are overweight or obese. 30% of boys and 20% of girls aged seven were obese (aged nine, 57% boys were overweight, 50% girls) - the highest in Europe. And Greece had the lowest proportion of schools providing fresh fruit on the premises, too (12%). This is likely down to the 'modernisation' of Greek diets, with fast food providing access to foods higher in bad fats, sugar and salt and taking families away from the healthier, and more traditional, Greek diet. There has also been an increase in sedentary lifestyles (you don't need a hunk of cheese pie every morning if you sit at a desk, whereas perhaps you did if you were herding sheep up a hillside!), which certainly adds to the issue.
In essence, I think it's crucial we keep Greek traditional food culture alive, to allow more people to enjoy it internationally, as well as to make it more popular amongst the young people in Greece!
Food, Friends and Family
Greeks always have friends and family around. It doesn't have to be a special occasion - eating together is a daily event. The love grows, too! Oftentimes a quiet coffee with a friend will attract more people, and before you know it, there are ten people around the table having a feast!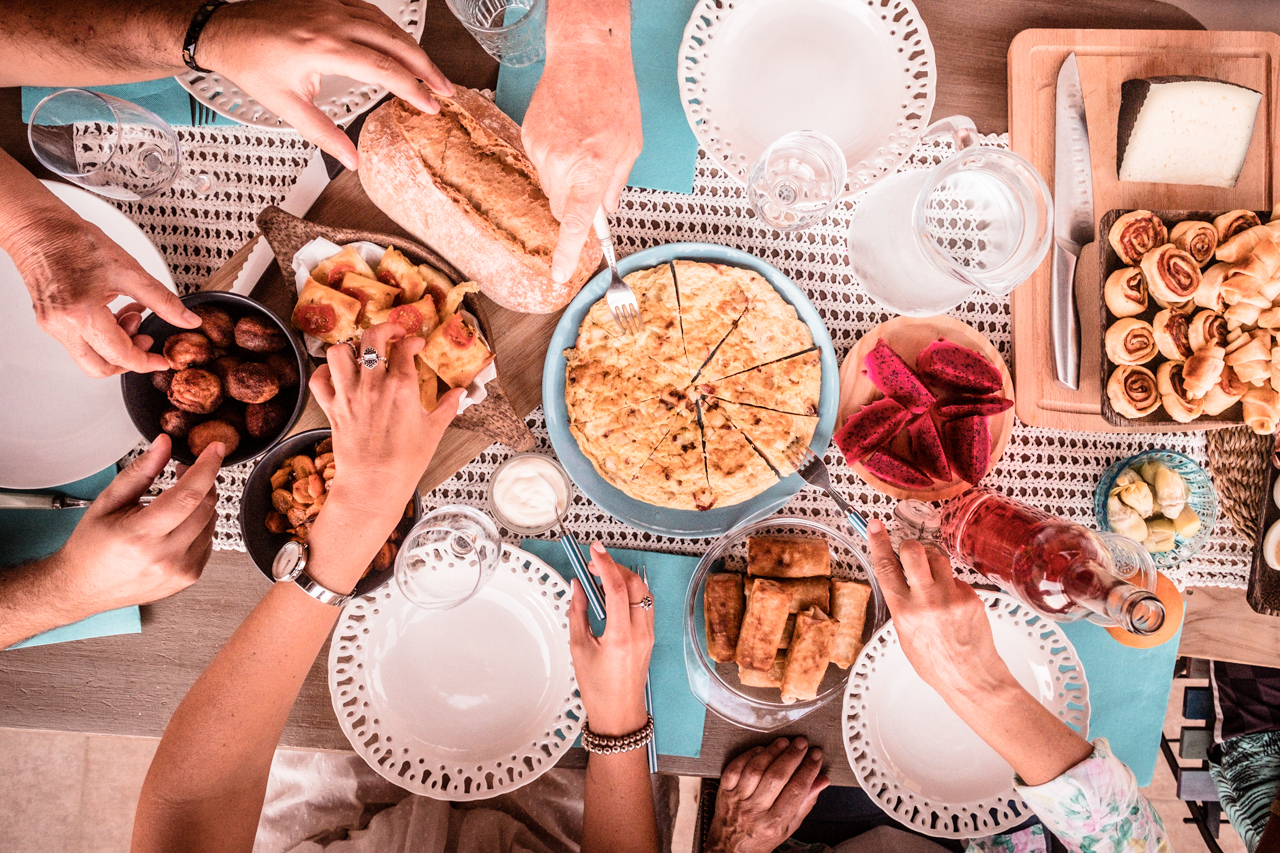 Food is a physical show of love, and hospitality. Greeks tend to enjoy cooking and the process and ritual surrounding it. Greek food culture can be intense in this way; be wary of offending your host by turning down the offer of a 'quick snack', as in fact she or he may have slaved over the stove for hours creating something special just for you!
Hopefully this is a brief intro to what makes Greek food culture so unique…and hopefully goes some way to explain why I'm so dedicated to sharing it with you all. 😊