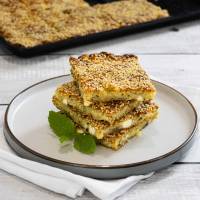 Crustless Zucchini Pie
Try fooodlove's crustless zucchini pie recipe - a savoury summertime sensation!
16

servings

1 hr
274 kcal

VE
This crustless courgette pie (or zucchini pie, for our US audience!) is a real go-to summer dish for easy outdoor entertaining. Lovely warm from the oven, it's just as perfect at room temperature too. I just knock up a nicely dressed salad to go alongside, and there we have it - outdoor dining, done!
Because it's crustless, I cut down on the calories from pastry too, concentrating instead on the rich egg and cheese filling, so it's a meal that makes me feel sustained but not over-stuffed. It's protein rich, and full of zucchini and herbs - a plate full of summertime gorgeousness.