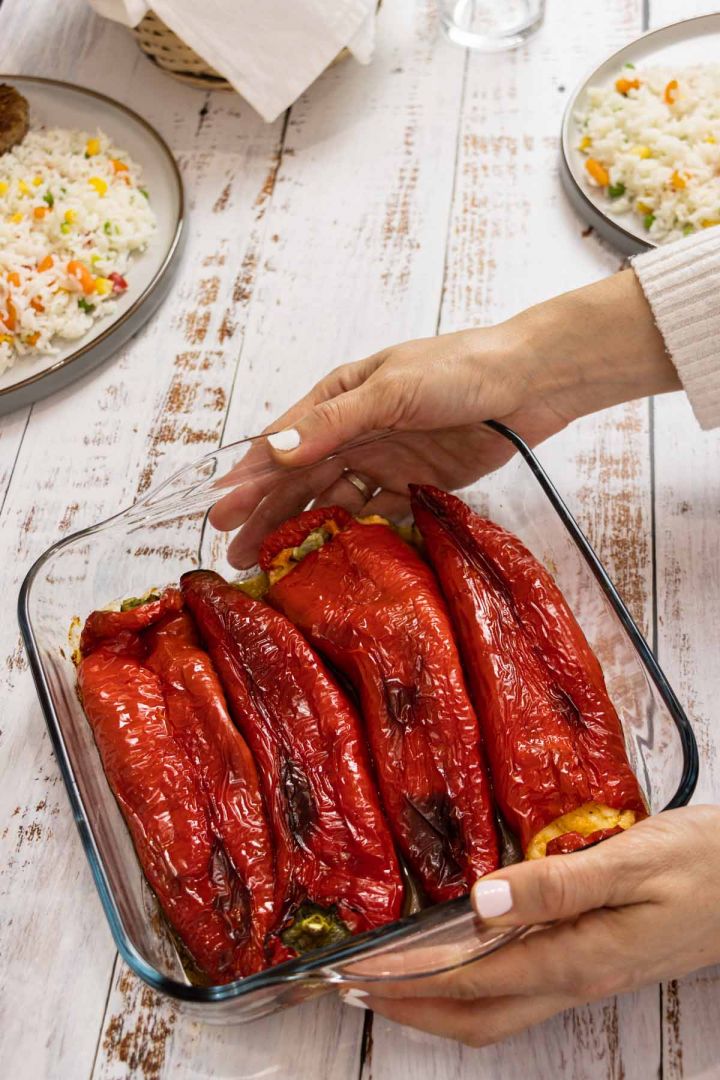 Feta-stuffed Florina peppers are a very popular side dish in my family! Every time we have a family gathering (pre-pandemic, anyway), we would each bring a meze dish to the feast…and this particular side would somehow always be present. It's just a hit with everyone who tries it!
Showcasing simple ingredients and with an easy cooking method, this is a great meze dish. It also seems to go with everything - I think you'd be hard-pushed to find a pairing that didn't sit easily with it! In my book…there is always room for Florina peppers stuffed with feta. (Ssh, let me tell you my secret! When all the peppers are gone but there's still olive oil in the bottom of the dish, dipping bread into those feta- and pepper-infused juices is possibly my favourite morsel of all!)
Tips
Depending on how thick your peppers are, you may need to cover them with aluminium foil for the last 10 minutes so they don't get burned.
Some peppers can be weirdly shaped. Use a toothpick to hold their top part in place so the filling doesn't come out while cooking.
Directions
You will need about 35 minutes to make 4 servings of this recipe, which has approximately 329 calories each. Make sure you have all the ingredients and follow these 6 simple steps. If you have any questions, send me an email and I'd be more than happy to help!
Watch it step-by-step!
Florina peppers stuffed with feta - one for your recipe book… Do you panic if you're asked to bring along a dish to contribute to a dinner party, or buffet? If so, this is the perfect dish to learn!