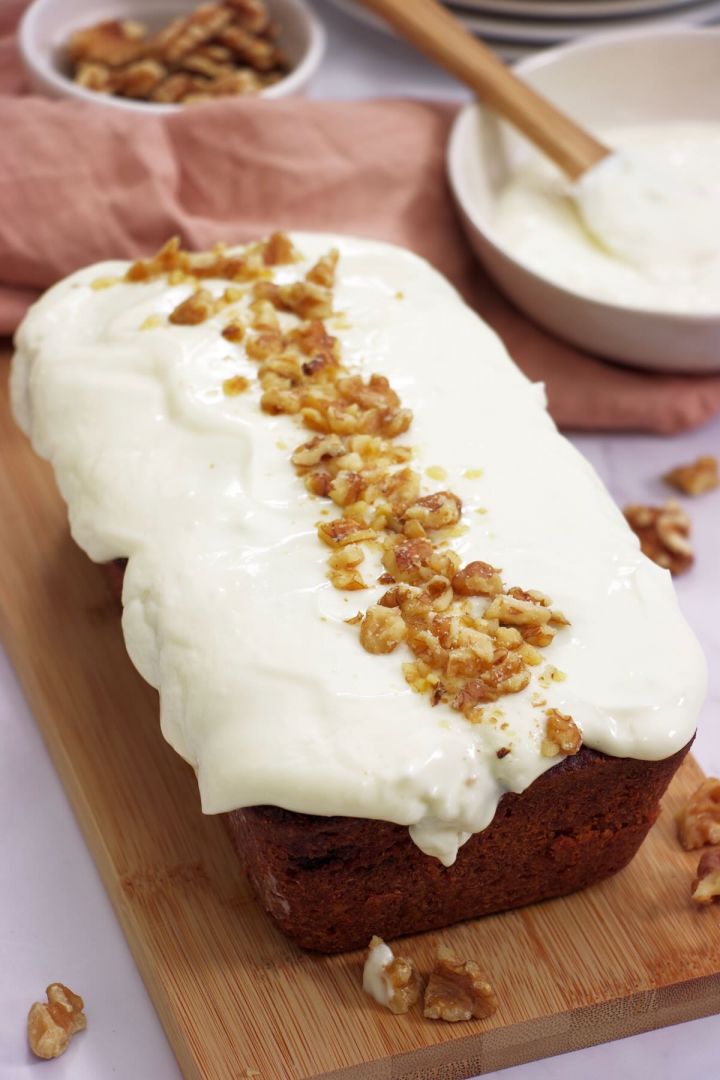 What's a Greek carrot cake, I hear you ask? Well, for me, all things Greek use Greek yoghurt wherever possible! So yes, this is a carrot cake without cream cheese -I substitute in that tart, rich tang of Greek yoghurt instead, to make for a slightly healthy carrot cake, as well as a yummy one. That tart, sweet tang is literally 'the icing on the cake' when it comes to carrot cake - that vegetable, spiced moist batter is just complemented so perfectly by a tangy sweet frosting.
Carrot cake might just be my favourite cake - and that's saying something! Being wholemeal flour, as well as containing carrots, raisins, and walnuts as well as eggs and plenty of spices, I can convince myself that this indulgent treat is at least doing me a little bit more good than a decadent fudge cake, for example.
Yoghurt icing for carrot cake isn't completely pioneering - it really does mimic that slightly sour-sweet tang that cream cheese frosting delivers, but with the added goodness of Greek yoghurt. A creamy Greek yoghurt frosting is just as easy to make as a cream cheese one, and we are always more likely to have Greek yoghurt in the fridge - so it just makes this cake a real easy store cupboard bake for our household.
Ingredients
Carrot Cake

Yogurt Frosting
Tips
To make sure your cake is fully baked: After 55 minutes of baking, insert a knife deep into the cake. If it comes out clean it's ready.
Because of the yogurt frosting, make sure you store the cake in the fridge for up to 4-5 days.
Directions
You will need about 1 hour 15 minutes to make 10 servings of this recipe, which has approximately 540 calories each. Make sure you have all the ingredients and follow these 10 simple steps. If you have any questions, send me an email and I'd be more than happy to help!
Watch it step-by-step!
A carrot cake without cream cheese? I know, it sounds like a sin! But don't worry, I haven't forgone that glorious, tangy white frosting entirely - I've just swapped up the cream cheese for a Greek yoghurt frosting.